Finns stockpiling firewood – Reuters
Skyrocketing energy prices and the loss of supply from Russia threaten blackouts in the Nordic country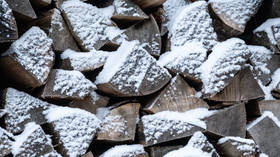 Soaring power costs and concerns of electricity blackouts this winter have pushed people in one of the world's northernmost countries, Finland, to hoard firewood and refit their homes to cut power usage, Reuters has reported.
The loss of oil, gas, and electricity from Russia threatens to have a massive impact on the Nordic nation. Moreover, technical problems have limited output from a new domestic nuclear plant, triggering warnings of blackouts.
"Finland used to bring a third of its energy from Russia and now we are close to zero," said Riku Huttunen, the director general of energy and climate policy at the Finnish Ministry of Economic Affairs.
"One could say that if we have minus 20 degrees Celsius (-4 Fahrenheit) in the south and possibly minus 30 degrees up north, the risk of electricity shortage is very near," Huttunen told Reuters.
Temperatures in Finland in winter often drop below -20C, while the cities get less than six hours of light a day in the darkest months of the year. This makes the country particularly vulnerable to the EU energy crunch, with a loss of power potentially exposing residents to life-threatening conditions in a matter of hours.
According to the Reuters report, since summer, the Finns have been hoarding torches, heat pumps, timers, solar panels, and firewood.
"We went three, four months without time off," firewood producer Jari Saari told the media outlet, recounting how he received non-stop calls from customers looking to stock up.
"At one point we had 400 people waiting, I started to stress that what if I had promised to do too much," Saari said.
The firewood producer noted that rising costs of timber, transport, and heating have pushed up the price for consumers, with a rough cubic meter of firewood now costing €120 ($128), up from the pre-crisis €85-90 euros.
For more stories on economy & finance visit RT's business section
You can share this story on social media: