Russia to double yuan share in rainy day fund – Finance Ministry
The key national reserve no longer holds British pounds or Japanese yen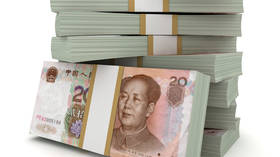 The maximum share of Russia's National Wealth Fund (NWF) that can be held in Chinese yuan will be doubled to 60% as Moscow further reduces exposure to the currencies of 'unfriendly' nations, the Finance Ministry has announced.
The permitted share of gold in the NWF will also be doubled, to 40%, while balances in the British pound and Japanese yen have been reduced to zero, the ministry added.
The fund, which accumulates revenue from oil exports, was created to support the national pension system and to help cover budget deficits when needed. The assets of the fund amounted to $186.5 billion as of December 1.
"The Russian Finance Ministry is continuing its consistent reduction of the share of currencies of 'unfriendly' states in the structure of the National Wealth Fund's assets," the ministry stated.
"The currency structure of the NWF has become better adapted to the challenges facing the Russian Federation in the current macroeconomic and geopolitical conditions," it stressed.
The head of the ministry, Anton Siluanov, said earlier that "among the currencies of friendly countries, the yuan has the characteristics of a reserve currency and sufficient liquidity on our domestic foreign exchange market to the greatest extent."
The yuan has been squeezing out the US dollar in trade on the Moscow Exchange, according to Yury Denisov, the head of the bourse. He said recently that yuan-ruble trading volumes would surpass dollar-ruble trading volumes in 2023 as financial links between Moscow and Beijing continue to strengthen.
For more stories on economy & finance visit RT's business section
You can share this story on social media: