China's EV exports hit record high on European demand – Bloomberg
International deliveries jumped to the highest monthly total ever in November 2022, the news outlet reports, citing customs data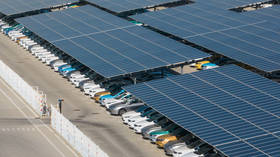 Electric car exports from China nearly tripled in November, driven largely by orders from Europe, Bloomberg reported, citing customs data.
According to the report, Chinese manufacturers shipped $3.2 billion worth of EVs in November, the highest figure ever for one month, up 165% from November 2021. Data also showed that 70% of the deliveries were destined for Europe, in particular Belgium and England.
Electric passenger cars made up over half of China's total car exports in both November and October, with November shipments soaring to a record high of $6 billion.
Analysts say the surge in exports of Chinese-made EVs comes as Western carmakers shift their production from domestic markets to China due to limited capacity at home. US-based Tesla exported over 37,000 cars from China in November, up from 60 vehicles in March.
According to a study by PricewaterhouseCoopers consulting firm, by 2025, up to 800,000 Chinese-built vehicles could be sold in Europe, most of them electric.
PwC analysts project that the shift will be driven by two factors – Chinese brands boosting their market share and Western carmakers making more EVs in China.
"While Chinese manufacturers are selling more and more BEVs (battery electric vehicles) in Europe, both European and American manufacturers are increasingly shifting their BEV production to China. Chinese manufacturers… have optimized and developed their products in the domestic market, so that they are now bringing affordable BEV models, innovative technology and novel concepts to Europe," PwC said in a news release.
Overall, China exported around 852,000 electric cars in January-October, 2022. Chinese brands made up a 5.2% share of the Western European EV market in the first half of the year against 3.8% in the same period of 2021.
For more stories on economy & finance visit RT's business section
You can share this story on social media: