EU should sue US – trade chief
Washington's latest inflation battling legislation has been branded discriminatory by European officials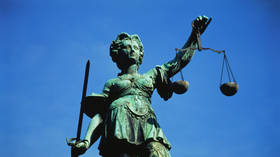 The EU should file a lawsuit with the World Trade Organization (WTO) against the controversial US Inflation Reduction Act (IRA), Bernd Lange, head of the European Parliament's Trade Committee, told the Berliner Morgenpost newspaper on Saturday.
"My assumption is that the negotiations between the EU and the US will not be able to help agree even on small changes in the implementation of the IRA. The basic structure of the IRA will remain in place. In this regard, I think it is necessary for the EU to quickly file a complaint with the WTO in the coming months," the lawmaker said ahead of a meeting of the EU-US Trade and Technology Council on Monday, at which the IRA package is expected to be discussed. He added that the lawsuit would help clarify "that the US's actions are clearly not compatible with WTO regulations."
The IRA is a $430 billion climate protection and social package passed by the US Congress in August. The package aims to help battle inflation and reduce energy prices, as well as tackling climate change. It offers generous tax breaks for US companies that invest in clean energy and significant subsidies for domestic electric vehicles, batteries and renewable energy projects. The measure has sparked concerns in the EU, with many warning that the "protectionist" legislation may be "discriminatory" towards European companies.
French President Emmanuel Macron has slammed the subsidies provision in the IRA as "super aggressive," while German Economy Minister Robert Habeck has called for a "robust" response to the law from Brussels. Meanwhile, EU Internal Market Commissioner Thierry Breton told the newspaper Journal du Dimanche that the legislation would cause a "competitive imbalance" between the EU and other buyers of US goods. He called for the creation of a "European sovereignty fund" which would support industrial projects within the bloc.
Lange also suggested the EU should step up its support for domestic industry in the face of the US legislation.
"We also have to examine whether and how we can reduce energy prices for our industry, as at the moment they are up to ten times higher than in the US," he stated.
For more stories on economy & finance visit RT's business section
You can share this story on social media: