Gazprom reveals hope for Nord Stream 2
The remaining, undamaged, pipeline section is being emptied of gas for inspection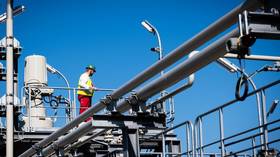 Russian gas flow to European customers may be resumed via the remaining Nord Stream 2 string after Gazprom checks that it's working correctly, the Russian state energy major said in a statement on Monday.
The string – Line B of the pipeline – was not damaged in last week's explosions that punctured Line A and both strings of Nord Stream 1.
"Gazprom is working to depressurize Line B of the Nord Stream 2 pipeline. To do this, the company is pumping the natural gas out of the pipe. This will make it possible to safely inspect the integrity of string B and reduce potential environmental risks from possible gas leaks. If the decision to start gas deliveries via Nord Stream 2 string B is made, natural gas will be pumped into the pipeline after the system integrity is checked and confirmation by supervisory authorities is granted," the statement says.
Danish authorities reported leaks on three strings of the Nord Stream 1 and 2 pipelines last week after a local operator noted a loss of pressure following a series of undersea explosions in the area. Prior to the incident which is now being investigated, Russia supplied gas to the EU via the Nord Stream 1 pipeline. Nord Stream 2, while having been ready for operation and filled with gas since last year, has not been used for exports due to EU sanctions and the reluctance of European officials to grant it certification.
Russian Deputy Prime Minister Alexander Novak said on Saturday that the gas routes can be repaired, but the process will be costly and time-consuming. According to him, Moscow's first step will be to find the culprit behind the attack.
Gazprom said on Monday that pressure in all the Nord Stream strings has stabilized and gas leaks from the damaged areas have stopped.
For more stories on economy & finance visit RT's business section
You can share this story on social media: