Tourist accommodation firm says Russians, Belarusians not welcome
Airbnb has banned the two nations' peoples from using its services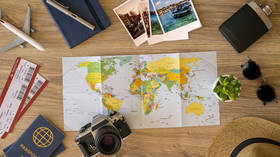 The online market for lodging and tourism Airbnb said late on Monday it had suspended operations in Russia and Belarus, joining an array of Western corporate shutdowns in those two countries. Reservations starting on or after April 4 have been canceled, it said.
"Guests globally will no longer be able to make new reservations for stays or Experiences in Russia or Belarus," the company said in a statement, adding that "Guests located in Russia or Belarus will not be able to make new reservations on Airbnb."
Meanwhile, angry Russian users have criticized Airbnb's new policy, calling the company thieves and accusing the platform of "ethnic discrimination" and "fascism." Some have complained of being unable to get a refund after canceling their reservations.
Screenshots provided by the RTVI broadcaster show a user asking "How can you talk about any tolerance and combating discrimination when you're blocking people simply because of their nationality?"
"Looks to me this service took our money and left Russia. Definitely don't recommend. Thieves," another one wrote, as per screenshots from the Google Play store shared by the Baza Telegram channel.
"I do not support the war, I support Ukraine. I understand why you don't want to work with Russian money. But blocking users because of a passport is too much," a third user said, giving the company one star on Apple's App Store.
"Racism and discrimination is your true face," wrote another reviewer.
According to media reports, the platform is not planning to return paid bills for accommodation. Money that was spent on bookings after the April 4 date will be converted into bonuses. However, it is not clear how those bonuses could be used, as the service is no longer available.
Last month, global travel services provider Booking.com terminated activities in Russia and Belarus. It has stopped displays on its site of hotels, guest houses, and hostels in the countries' territories.
For more stories on economy & finance visit RT's business section
You can share this story on social media: