Tesla investors demand billions from Elon Musk
Shareholders angry over SolarCity deal want CEO to pay up $13 billion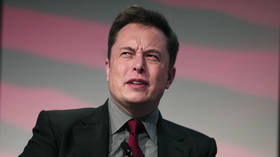 Tesla investors on Tuesday asked a judge to order Elon Musk to repay the electric carmaker for the 2016 acquisition of solar panel producer SolarCity. The company has been integrated and reorganized, and is now known as Tesla Solar.
The plaintiffs on the case filed last year claim Musk used his position as Tesla's controlling shareholder to coerce the electric vehicle maker's board into the deal to acquire the company that was highly indebted and unstable at the time. Shareholders say the deal was needless and heaped Tesla with SolarCity's financial problems and debt.
"This case has always been about whether the acquisition of SolarCity was a rescue from financial distress, a bailout, orchestrated by Elon Musk," Randy Baron, an attorney for shareholders, told the court hearing via Zoom on Tuesday, as cited by Reuters.
Also, the all-stock deal cost Tesla some $2.6 billion at the time, but Tesla's market price has soared since then. Shareholders claim the deal would be worth around $13 billion at Tesla's current price.
In 2016, Musk was a major stakeholder in SolarCity, founded by his cousins, with a 22% stake. He was also SolarCity's chairman of the board, as well as CEO and chairman of Tesla. In the legal complaint regarding the SolarCity acquisition, shareholders accuse Musk of profiting from the deal much more than Tesla did.
In July 2021 hearing, Musk defended the deal as part of his master plan to create an integrated energy generating company that would combine SolarCity's solar panels and Tesla's cars and batteries. He and his attorneys claim that SolarCity was far from failing at the time of purchase and had high growth prospects.
Moreover, Vanessa Lavely, one of Musk's attorneys, stressed that "without Elon Musk, Tesla might not exist let alone have a $1 trillion value."
"That doesn't make him a controller. That makes him a highly effective CEO," she added.
Musk blasted the proposed compensation for the deal as a "windfall" for plaintiffs and said it would be at least five times the largest award ever in such a lawsuit. The ruling on the case is expected within three months.
Tesla's stock was losing nearly 2% on Wednesday, trading at around $1,030 per share at 08:00 GMT.
For more stories on economy & finance visit RT's business section
You can share this story on social media: