Bitcoin receives first major upgrade in years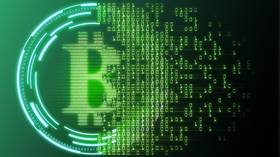 The globe's largest cryptocurrency by market capitalization has passed its first big network upgrade since 2017, boosting bitcoin's security and efficiency.
Bitcoin rolled out its long-awaited code upgrade, called Taproot, early on Sunday, giving crypto-enthusiasts an expanded toolbox to work with.
In a word, the network will now use a new form of signatures, which are like the fingerprint a user leaves on every transfer to prove its legitimacy, formed from the private key to their bitcoin wallet.
The new Schnorr signatures will be based on a new cryptographic system and will essentially make small and large transactions indistinguishable on the blockchain, fooling potential thieves.
Besides making transactions more private and secure, Schnorr signatures are also smaller and faster than the previously used ones, which will allow users to carry out cheaper but more complicated "smart contracts." These are self-executing encoded agreements that live on the network and can be used for any kind of transaction, from paying rent to registering a vehicle.
Also, the new system will make complex multi-signature transactions, where several signers are required to prove a transfer, cheaper and less data-consuming, CoinDesk reports.
READ MORE: Bitcoin price hits all-time high, while major card issuer embraces crypto
The Taproot upgrade is the first major change to the bitcoin network code since 2017, and experts say it could help it better accommodate new users, as well as lower risks for its existing pool of crypto traders.
For more stories on economy & finance visit RT's business section
You can share this story on social media: