China's crackdown on firms trading in US could kill $2 TRILLION listings market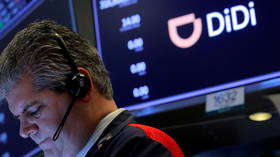 New regulations concerning listings of Chinese firms on foreign exchanges are likely to mean that Beijing aims to put a lid on the US IPO market altogether, market experts say.
The Chinese State Council said in a recent statement that all businesses with 1 million or more users will have to get approval from the country's cybersecurity regulator if they want to list overseas. Prior to that, Beijing also announced plans to amend the rules of "the overseas listing system for domestic enterprises," as well as to enforce control of cross-border data flows and security. These steps may bring about an end to Chinese initial public offerings (IPOs) in the US, industry experts say.
"It's unlikely there will be any US-listed Chinese companies in five to 10 years, other than perhaps a few big ones with secondary listings," Paul Gillis, a professor at Peking University's Guanghua School of Management in Beijing, told Bloomberg.
Until recently, there were some 248 Chinese companies listed on US exchanges, mostly tech firms, including eight state-owned enterprises, with a total market capitalization amounting to $2.1 trillion, CNBC reported, citing the US-China Economic and Security Review Commission. Now, the Invesco Golden Dragon China ETF (PGJ), which tracks US-listed Chinese shares, has reported that the number has dropped by a third over the past six months amid the regulatory crackdown.
Also on rt.com
China cracks down on tech firms over their collection and use of personal data
The situation escalated in June when China's ride-hailing app Didi Global Inc. went for a New York listing despite objections from regulators, who reportedly suggested it list in Hong Kong instead. The company's shares plunged nearly 20% after Beijing announced a cybersecurity probe, banning Didi's new user registrations. US-listed Alibaba and Tencent have also recently fallen under government scrutiny.
Overall, US-traded Chinese stocks have decreased nearly 30% this month. Chinese authorities are putting high hopes on the Hong Kong exchange for domestic listings, planning to ease the regulation demanding Hong Kong IPOs seek the approval of the country's cybersecurity regulator to make it more appealing to companies that wish to go public. Currently, the processing of IPO applications takes too much time due to the regulation.
With this in mind, the amount of new Chinese listings in the US may drop significantly in the near future, says Donald Straszheim, senior managing director of China research at Evercore ISI Group.
"Beijing [is] not trying to stop all US listings. Still, business ties between the US and China are better than not. Beijing [is] trying to add a layer of protection against corporate foreign compliance," Straszheim said in a note to CNBC.
For more stories on economy & finance visit RT's business section
You can share this story on social media: