Musk's wealth keeps soaring, but he wants to ditch worldly possessions to colonize Mars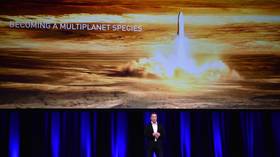 SpaceX and Tesla founder Elon Musk has added over $20 billion to his fortune since he became the richest man on Earth. However, he downplays the importance of material wealth and wants to spend his fortune colonizing Mars.
Thanks to skyrocketing Tesla shares, Musk's net worth surpassed $200 billion dollars for the first time, and now stands at $209 billion, according to Bloomberg Billionaires Index. Since Thursday, he has extended his lead over the previous leader of the rich list, Amazon founder Jeff Bezos, who now trails Musk by $23 billion.
Also on rt.com
SpaceX will land on Mars in two years, humans in four-to-six years, Musk says
While both billionaires have far-reaching space exploration plans, the Tesla CEO is more dedicated to bringing humanity to the Red Planet. In an interview with Business Insider, the tycoon said that building a city there would require a lot of resources and capital, and that he is willing to contribute to this mission.
"I'm also just trying to make clear that I'm serious about this," Musk said, referring to Mars. While the billionaire said that he is in the process of getting rid of his property – he sold multiple houses in Los Angeles and wants to sell some others – he also noted that he wants to have "basically almost no possessions with a monetary value, apart from the stock in the companies." The stock is quite a big part of his net worth, as he owns around 20 percent of the electric carmaker's shares.
Also on rt.com
'On the way to Mars': Boom Bust observes China's space race as it launches world's 1st 6G satellite into orbit
Shortly after news about Musk topping the list of the world's wealthiest people made headlines earlier this week, the tycoon apparently decided to reiterate what he's going to do with his massive fortune. He pinned an old tweet for a while, which said that about half of his money is earmarked for helping to "establish a self-sustaining city on Mars to ensure continuation of life," while the other half is for Earth's problems.
For more stories on economy & finance visit RT's business section
You can share this story on social media: