Amazon posts record profits as Apple thanks stimulus aid for forecast-beating earnings, despite worst US quarter on record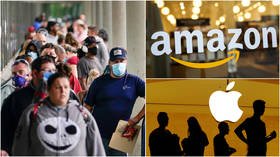 Amazon and Apple have reported major quarterly gains, with Jeff Bezos' brainchild posting its biggest-ever profit and Apple seeing strong earnings, even as Covid-19 drives the US economy into its worst contraction on record.
The two tech giants announced their second quarter results on Thursday, both topping expectations on Wall Street as online sales and virtual products see a surge amid the ongoing health crisis.
Amazon revenue jumped to $88.9 billion, up 40 percent from 2019, and the company brought on some 175,000 new employees in recent months. Though it had predicted it would lose money after dropping billions on coronavirus-related measures, Amazon's net income nonetheless doubled compared to the year prior, from $2.6 billion to $5.2 billion, in what CEO Jeff Bezos deemed "another highly unusual quarter."
"I couldn't be more proud of and grateful to our employees around the globe. As expected, we spent over $4 billion on incremental Covid-19-related costs in the quarter to help keep employees safe and deliver products to customers in this time of high demand," Bezos said in a press release.
Despite the big spending, Amazon has come under fire for its handling of the pandemic, with employees repeatedly complaining of major shortages of protective gear and unsafe working conditions, some even saying they were fired after speaking out about the lack of equipment. The e-commerce king also took heat after slashing a meager $2 hazard pay boost for workers, even as Bezos and other company executives see their fortunes swell.
Also on rt.com
WORST DROP EVER for US economy as GDP crashes 33% due to Covid pandemic lockdowns
Despite a massive US economic contraction due to lingering business closures driven by the pandemic – declining nearly 33 percent between April and June alone, the worst drop on record, according to the Bureau of Economic Analysis – Apple also reported blowout earnings for the second quarter, noting revenue gains in every category.
The pandemic has been something of a boon for Apple, as consumers are forced to work and learn from home and increasingly look to its devices and apps. CEO Tim Cook also credited emergency relief spending in the US and elsewhere for the company's performance.
"I think the economic stimulus that was in place – and I'm not just focused on the US, but more broadly – was a help," he told Reuters, adding that a "strong" launch for the iPhone SE also played a role in recovering sales following a slump in April.
Stocks for both Amazon and Apple rallied during after-hours trading on the heels of Thursday's optimistic quarterly reports, surging by 4.9 and 6.1 percent respectively.
Also on rt.com
US headed for double-dip recession as coronavirus shows no signs of slowing down – veteran economist Stephen Roach
Think your friends would be interested? Share this story!
You can share this story on social media: