Dow plunges 3,000 points in biggest single-day drop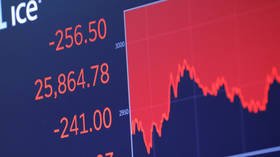 The Dow Jones plummeted nearly 3,000 points (2,997.1, to be exact) at the close of trading on Monday, finishing down 12.93 percent as markets continued to slide despite tripping a circuit-breaker minutes after opening.
The S&P 500 sank by a whopping 12 percent, while the Dow Jones Industrial Average dropped 13 percent. The Dow has dropped over 30 percent since opening at a high on February 12. This latest Dow drop is the worst since the infamous Black Monday crash in 1987.
While the Federal Reserve has cut rates toward zero in an effort to boost the economy, the continuing closure of schools, restaurants, bars, movie theaters, etc. across the country is affecting the market dramatically, and with no end in sight to the coronavirus panic, it's an unsure market for investors.
Also on rt.com
Oil prices tank to four-year low, US crude falls below $30 a barrel
Confidence in the markets was not helped by a Monday afternoon press conference in which President Donald Trump said the federal government could be responding to the coronavirus until "July or August," possibly longer.
Precious metals have also been sent into free fall, with gold dropping by 1.3 percent to just over $1,500 an ounce. Silver, platinum, and palladium have seen even steeper declines, each falling by over 12 percent on Monday.
Brent and WTI crude tumbled by 9 and 11.3 percent respectively, taking a toll on petrol giants including Chevron, BP, Royal Dutch Shell, and Suncor Energy, each of which saw more than a 15-percent decline in stock price. Apache was among the worst affected, down by over 30 percent.
If you like this story, share it with a friend!
You can share this story on social media: