Nike closes all stores in N. America, W. Europe & Australia/NZ due to coronavirus crisis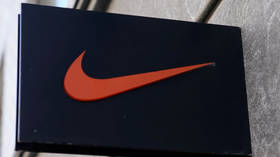 US sportswear giant Nike says it will shut down all retail stores in North America, Europe, Australia and New Zealand, to do its part in stopping the Covid-19 pandemic. Stores in China, Japan and South Korea will remain open.
Nike plans to keep its shops closed in the US, Canada and the Western Europe for almost two weeks between March 16 and 27, the company said, in a statement released via CNBC. The same measures would also apply for Australia and New Zealand, it added, citing the "well-being of our teammates and consumers."
Also on rt.com
Apple shuts all stores outside Greater China in coronavirus crackdown
The sportswear giant encouraged its clients in the affected countries to shop online while saying that stores in South Korea, Japan and "most of China," as well as in "many other countries," are open and will stay that way. The company also announced some safety measures for its staff, including an option to work from home, staggered work schedules and additional cleaning measures.
The corporation, which has 384 retail stores in the US alone, follows in the footsteps of several other companies, including Apple, which on Saturday announced the closure of all its retail stores worldwide, except those in Greater China.
Also on rt.com
'Don't you dare buy these': Sneaker fans warn resellers as Nike releases pics of special edition Kobe 5 'Lakers' basketball shoes
The decision to close its stores comes at a time when Nike's shares have plunged over coronavirus fears. But the company has also been reeling from a series of PR blunders that cost it either profits or reputational damage over the past few years. This includes the controversial pick of Colin Kaepernick, the former San Francisco 49ers quarterback who started the 'take a knee' anthem protests, for Nike ads in 2018 – a move that backfired spectacularly and prompted calls for boycott, despite no shortage of newfound supporters that praised the company for supposedly standing up for racial justice activism. This did not save Nike from its own 'racist shoe' scandal, as just the following year it pulled trainers emblazoned with the Betsy Ross flag after a liberal backlash.
Nike was also forced to stop sales of its new shoes in China in June 2019 after the Japanese designer with whom the company cooperated openly backed Hong Kong protests, and it even found itself embroiled in a doping scandal after track coach Alberto Salazar – who was involved in its elite Oregon Project runners training program – was slapped with a four-year ban from the US Anti-Doping Agency.
In the latest embarrassing turn of events, Nike's high-tech footwear has been brought under scrutiny after several Nike-sponsored marathon runners broke longstanding records while wearing it. The controversial shoes escaped the full ban at the hands of the world athletics governing body but some customized versions have been prohibited, dealing another blow to the company's image.
Also on rt.com
Controversial Nike shoes ESCAPE full ban ahead of Olympics – but marathon star Kipchoge's modified versions will NOT be allowed
Think your friends would be interested? Share this story!
You can share this story on social media: