India and Brazil sign over a DOZEN trade treaties as Bolsonaro makes first visit to New Delhi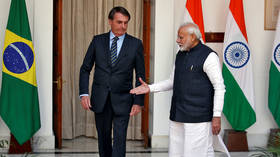 Brazilian President Jair Bolsonaro's first meeting with India's Narendra Modi appears to have boosted economic ties between the two emerging powers, which signed a trove of trade and investment agreements on Saturday.
President Bolsonaro, who became the first Brazilian head of state to visit India, had a seemingly productive one-on-one with Prime Minister Modi earlier in the day. The two leaders exchanged pleasantries and warm words before proceeding with talks – the most closely watched part of the meeting.
"Your visit to India has opened a new chapter in bilateral ties between India and Brazil," Modi said in his media statement while greeting Bolsonaro.
At the end of the day, Brazil and India – both members of the informal BRICS bloc – inked 11 agreements, among them a Strategic Partnership Action Plan and a Bilateral Investment Treaty. Other documents related to bio-energy, cyber security, investment, health, and medicine.
Aside from key ministers, Bolsonaro's delegation also included representatives of 50 major Brazilian companies ranging from civil aviation and agriculture to defense. As a so-called "chief guest," he will attend Republic Day – India's biggest holiday – later on Sunday.
While India and Brazil are the world's largest emerging economies after China, they perform beyond their potential with bilateral trade amounting to some $8.2 billion a year. India's red carpet rollout for Bolsonaro signals that New Delhi and Brasilia want their economic ties to thrive.
Also on rt.com
As superpowers bicker, Brazil & India chart their own course
Like this story? Share it with a friend!
You can share this story on social media: