Amazon Prime scam costs victims more than $500,000 in TWO months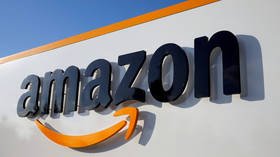 Amazon customers have lost around $513,000 (£400,000) after they were targeted by a new telephone scam claiming they had been signed up to its paid Prime subscription service, the UK's national fraud and cyber crime center said.
Around 500 victims received automated calls saying they had just been charged for Prime membership and were asked to press a button on their phone to cancel the transaction, Action Fraud reported. As soon as an unsuspecting person did as instructed, the call was connected to a scammer posing as an Amazon worker.
Also on rt.com
Brother, can you spare a dime? Jeff Bezos dethroned as world's richest man
The criminal then told the customers that a subscription had been purchased in their name and explained that they could prevent such a situation from happening again in the future - all the person had to do was to install a special remote access app called Team Viewer to allow "customer service" to improve their security settings.
As soon as the victim was hooked, they were instructed to download the software and log onto their online banking account. This gave the fraudsters remote access to the victim's computer where they were able to see their personal and financial details.
Some people targeted by another variation of the same scam were told that they could receive a refund for an unauthorised transaction on their Amazon account.
Also on rt.com
Microsoft bags $10bn Pentagon contract for JEDI 'war cloud' project, edging out presumed frontrunner Amazon
Out of 500 reports Action Fraud received on the criminal scheme, 200 people complained that they lost money, while others refused to follow the instructions of the suspicious call. The center warned people to never install any software after receiving a cold call and said that if they were in doubt, they should contact an organisation directly using a known email or phone number.
News about the scam began to circulate in British media earlier this month, and it was reported that an elderly woman was defrauded out of £25,000 (around $32,000).
For more stories on economy & finance visit RT's business section
You can share this story on social media: