Putin predicts doubling of Russian agriculture exports by 2024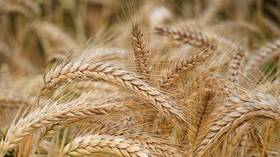 Sales of Russia's agricultural products abroad are expected to reach $45 billion in the next five years, according to President Vladimir Putin.
That is "quite an achievable target," Putin said on Thursday, during his annual Direct Line Q&A session.
"If, ten years ago, someone had told us that Russia would export agricultural products worth $25.7 billion-a-year, like in 2018, we would have laughed and said: "Thanks for your good-but-unfeasible intentions," the Russian president said. But that has been already accomplished, he pointed out.
Also on rt.com
Putin orders Russian brand of 'green' non-GMO produce to be set up
"We are striving to ensure that, by 2024, our agricultural exports reach $45 billion, and I think this is an attainable figure," Putin said.
Boosting agricultural exports is currently one of Russia's top-priority tasks. The country's Agriculture Minister Dmitry Patrushev said this month that Russia will soon become one of the world's 10 leading exporters of agricultural products.
Earlier this year, Putin said Russia's enormous natural resources should serve as a guarantee of high-quality food production; he also ordered the creation a Russian brand of 'green' non-GMO products.
Also on rt.com
Russia's $75 trillion in resources is why sanctions are impossible
Referring to Russia's booming agriculture sector, the president said that the country has ensured its independence on the global wheat market.
Russian agricultural production surged by 20 percent over the past five years. The country managed to capture more than half of the global wheat market in recent years, becoming the world's biggest exporter of grain, thanks to bumper harvests and attractive pricing.
In 2016, Russia became the world leader in wheat exports. Since the early 2000s, its share of the global wheat market has quadrupled.
For more stories on economy & finance visit RT's business section
You can share this story on social media: