Trump to China: US the "piggy bank" that everyone wants to raid and take advantage of... NO MORE!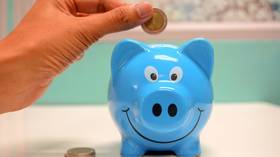 US President Donald Trump says Washington is "in a fantastic position" in trade negotiations with Beijing. According to the president, China buys almost $500 billion less from the United States than the US does from China.
It is Trump's latest twitter attack on China in the ongoing tit-for-tat tariff war between the world's two largest economies.
"Make your product at home in the USA and there is no Tariff. You can also buy from a non-Tariffed country instead of China," Trump tweeted on Tuesday.
He added that "Many companies are leaving China so that they will be more competitive for USA buyers."
"We are now a much bigger economy than China, and have substantially increased in size since the great 2016 Election. We are the "piggy bank" that everyone wants to raid and take advantage of. NO MORE!", the US president continued.
Trump hinted at the possibility of a trade deal with China, adding that Washington is in a much stronger position than Beijing.
"Will be taking in Billions of Dollars, and moving jobs back to the USA where they belong. Other countries are already negotiating with us because they don't want this to happen to them. They must be a part of USA action. This should have been done by our leaders many years ago. Enjoy!" he said.
The trade dispute escalated on Monday after Beijing retaliated against Washington's recent tariffs by imposing export levies targeting $60 billion worth of US goods. More than 5,000 items imported from the US to China will face increased tariffs of 25 percent, effective June.
Beijing's response comes after the White House increased tariffs on $200 billion worth of Chinese goods to 25 percent from 10 percent.
Trump has justified the tariffs hikes as an attempt to narrow the trade deficit between the two countries. The US president has repeatedly accused China of stealing trade secrets, forcing foreign companies to hand over technology as the price of access to the Chinese market, while subsidizing its own tech companies. Beijing has denied the accusation and accused Washington of protectionism. Trump and his Chinese counterpart President Xi Jinping are expected to meet at the June G-20 summit in Japan.
For more stories on economy & finance visit RT's business section