Russia tops global gold buyers list as it turns away from US dollar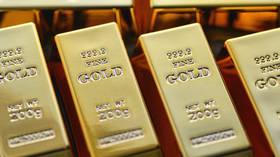 Net gold purchases by central banks hit a six-year high in the first quarter of 2019, with Russia securing the leading position, as nations seek diversification of their assets and less dependence on the greenback.
Global gold reserves were up by 145.5 tons from the beginning of the year through the end of March – a 68-percent increase compared to the same period in 2018. It is the largest increase in global reserves for this period since 2013, according to the World Gold Council (WSG) report, issued Thursday.
The Russian Central Bank added 55.3 tons to its vaults in the first quarter, bringing its vast gold reserves to 2,168.3 tons, and making it once again the biggest gold buyer, the report said.
Also on rt.com
Five countries with the world's biggest gold reserves
"Russia bought 274.3t in 2018 – the fourth consecutive year of +200t increases – while drastically reducing its US Treasury holdings, as part of its 'de-dollarization' drive," the council said.
China came in second among the largest buyers during the period, purchasing 33 tons. Beijing began the purchases again in December after a more than two-year pause. Several other countries significantly boosted their gold reserves, including Ecuador, Turkey, India, and Kazakhstan.
Also on rt.com
Till debt do us part: Russia and China continue dumping US Treasuries
The desire to buy the precious metal was driven by "economic uncertainty caused by trade tensions, sluggish growth and a low/negative interest rate environment" among other reasons, the WSG noted.
Russia is currently the world's fifth-biggest holder of gold, and if the current bullish tendency continues, it may outpace France and Italy and enter the top three gold-holders within a year.
For more stories on economy & finance visit RT's business section
You can share this story on social media: