Boeing shares plunge over downgrade due to 737 Max production delays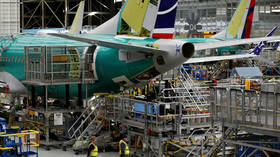 US aircraft manufacturer Boeing's shares tumbled more than four percent on Monday after Bank of America Merrill Lynch (BofA) downgraded the stock. The bank said that troubles with Boeing's 737 MAX 8 jets are worse than expected.
BofA cut its rating on the Dow component from buy to neutral and lowered its price objective to $420 from $480. It said that now the bank estimates delays with the plane will last six to nine months, longer than the three- to six-month delay originally forecast.
Also on rt.com
Boeing says they 'own safety,' vowing to review design process & produce 10 planes less per month
The two recent crashes of the 737 Max forced Boeing to cut production of its most popular passenger jet. The company's shares have fallen nearly nine percent in the past month but were still up 21.5 percent year to date.
In March, Ethiopian Airlines Flight 302 plunged shortly after takeoff, killing all 157 people on board. Indonesian Lion Air Flight 610 nosedived into the sea last October, killing all 189 passengers and crew. Investigators noted "clear similarities" between the two accidents.
Boeing lost billions of dollars in market value in the days after the Ethiopia crash as regulators grounded all MAX 8s across the globe.
Last week, Boeing CEO Dennis Muilenburg said "it's apparent" that the 737 MAX 8's MCAS maneuvering system contributed to the two fatal air accidents.
"The reputational loss from these events could erode long-term market share and pricing power of the 737 MAX," BofA analyst Ronald Epstein said in a note to clients seen by CNBC.
In addition to the initial 737 Max delays, BofA estimates it will take Boeing through 2021 to catch up to delivery orders for the aircraft.
"A six month delay also means lower margins due to penalties owed to customers, weaker negotiating position with airlines as airlines consider cancellations, and operational inefficiencies from the production disruption," Epstein said.
Boeing is reducing its production of the 737 Max to 42 per month, 10 less than its original target.
For more stories on economy & finance visit RT's business section
You can share this story on social media: