In gold we trust: China boosts bullion reserves as part of Beijing's anti-dollar push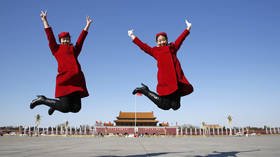 The People's Bank of China (PBOC) increased its gold holdings for the fourth straight month in March, bringing total reserves to 60.62 million ounces. The move is part of China's strategy to shift away from the US dollar.
Last month's inflow totaled 11.2 tons of bullion, following the addition of 9.95 tons in February, 11.8 tons in January and 9.95 tons in December. PBOC said March reserves were equivalent to around $78.5 billion, down from $79.5 billion in the previous month.
Also on rt.com
Are Russia, China & Turkey bringing back the gold standard? RT's Keiser Report finds out
Before December, the Chinese central bank had not reported an increase in gold reserves for more than two years, and the official figures remained unchanged from October 2016 to November 2018. Analysts say Beijing is trying "to diversify its reserves" away from the greenback.
READ MORE: Russia adds $2.4 billion to its foreign exchange reserves in one week
The increased purchasing by Asia's top economy comes at a time when global central banks are accumulating the precious metal. Gold reserves of central banks around the world surged 651.5 tons, or 74 percent year on year, in 2018, according to data from the World Gold Council (WGC).
Also on rt.com
World gold demand set to hit four-year high – experts
Experts say if China continues to accumulate bullion at the current rate over 2019, it may end the year as the top buyer after Russia, which added 274 tons in 2018.
As a safe haven hedge, gold will become more attractive in 2019, due to greater market uncertainties and the expansion of protectionist economic policies, WGC forecasts.
Gold was trading at just above $1,300 per ounce on Monday.
For more stories on economy & finance visit RT's business section
You can share this story on social media: