Spain to pay €1 million for solar project in the Chernobyl exclusion zone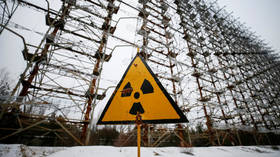 Spain will spend money from its state budget for the construction of a solar power plant in the Chernobyl nuclear disaster area, RIA reported citing the country's ecology ministry. It will be the second such facility in the area.
Ukraine, where the infamous exclusion zone is located, and Spain recently agreed that Madrid would finance the project under the Kyoto Protocol on greenhouse gas emissions, according to ecology official Angel Sanchez as cited by RIA Novosti.
Spain will invest more than €1 million in the construction of the facility, according to Sanchez. Specialists are currently developing the project and it is not clear when construction will begin.
Also on rt.com
Russian nuclear firm wins contracts to clean up Fukushima
The Kyoto Protocol is an international treaty that was established to lower greenhouse gas emissions in 1997, and came into force in 2005. More than 190 states became parties of the document, with developed countries agreeing to help countries with fewer resources to protect the environment. For this task, EU states and their allies vowed to spend $410 million annually, and the money for the construction of the power plant in Chernobyl stems from this deal, according to RIA.
Reactor Four at the Chernobyl nuclear plant exploded in 1986, resulting in one of the worst civilian nuclear disasters in history. Since then, the area around the facility is not suitable to live in due to the contamination.
Also on rt.com
Chernobyl disaster site repurposed for solar energy (PHOTOS)
However, the Ukrainian authorities opened up roughly 25 square kilometers of the zone for solar projects and received more than 60 proposals from foreign investors from Denmark, Germany, China, and the US.
When completed, the Spanish-funded power plant will become the second such facility in the Chernobyl zone. The first 1-megawatt plant was opened last year and is located around 100 meters from the protective 'sarcophagus' that covers the damaged reactor.
For more stories on economy & finance visit RT's business section
You can share this story on social media: