Trump's trade wars will not reduce the US trade deficit – IMF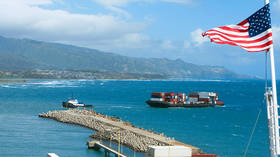 Erecting barriers in an effort to correct trade imbalances won't bear fruit, the International Monetary Fund (IMF) warns. Instead, governments should address their own macroeconomic issues, according to the IMF.
"Attempts to target one bilateral trade balance through tariffs or other distortions are likely to be met with offsetting changes in the trade balances with other partners," a new report released by the Washington-based agency reads.
Vast majority of changes in bilateral trade balances over the recent twenty years have been to "a significant extent" caused by the combined effect of macroeconomic factors, including fiscal policy, credit cycles, as well as exchange rate policies and trade subsidies, while various import-export fees reportedly played a rather smaller part, the study finds.
Also on rt.com
'No knee-jerk reaction': India says impact of US withdrawal of trade benefits will be limited
The trade balance is also a reflection of the international division of labor, according to the fund's research, which is a part of the April 2019 World Economic Outlook. The report is based on a study of 63 countries within two decades, from 1995 to 2015, and covers 34 sectors.
The study reveals that targeting specific partners with trade tariffs may easily help others to derive benefits from "trade diversion," as the demand from the state introducing the protective measure commonly doesn't change and has to be switched. Therefore, the trade balance remains "broadly unchanged."
Also on rt.com
China-US trade spat may leave American kids without toys
The IMF also insists that a sharp rise in trade tariffs may cause a "ripple effect" in an integrated global trade system, putting at risk the entire global economy.
"We find that increases in tariffs would particularly hurt output, jobs, and productivity, not only for those economies directly imposing and facing them, but also for other countries up and down the value chains," the report said.
The study comes amid an escalating trade conflict between the United States and China launched by the US President Donald Trump in early 2018. Trump raised tariffs on imports from China and a number of other countries in a bid to address America's growing trade deficit. So far, the US introduced tariffs on nearly $250 billion of Chinese imports. Beijing retaliated with levies on $110 billion of US goods.
Also on rt.com
China bans Australian coal imports as diplomatic tensions over Huawei intensify
The measures, however, failed to reduce the trade deficit that rose by $43.6 billion in 2018, hitting the highest level in a decade. The latest report by the US Chamber of Commerce revealed that the US economy may lose $1 trillion within ten years of tariff implementation. In 2018 alone, the ongoing trade war reportedly washed $7.8 billion from the nation's GDP.
For more stories on economy & finance visit RT's business section