Saudi Arabia doesn't need US permission to cut oil output – energy minister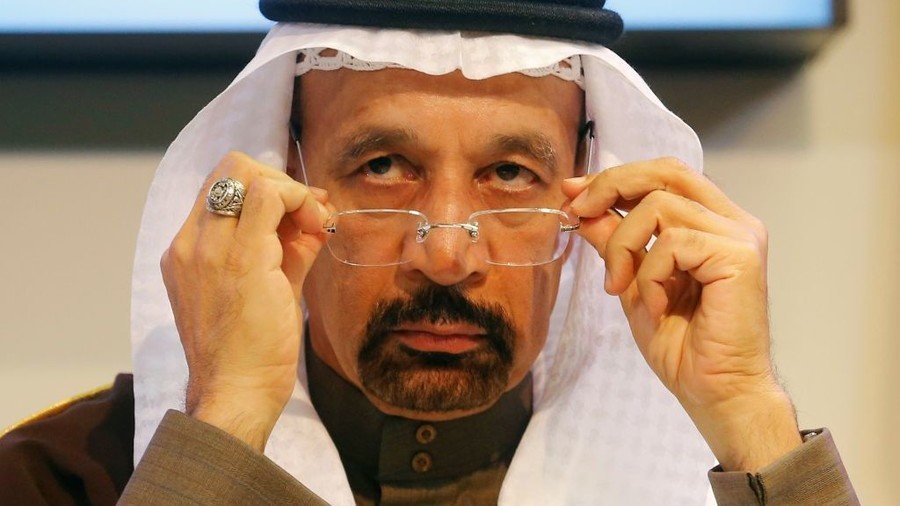 The US is not in a position to tell OPEC or Saudi Arabia what to do, Saudi Energy Minister Khalid al-Falih told journalists when asked about Donald Trump's reaction to curbing production of crude by the kingdom or the oil cartel.
"I don't need approval from any foreign state when it comes to the issue of energy production," the top official said as quoted by RIA Novosti.
Members of the Organization of the Petroleum Exporting Countries (OPEC), as well as the cartel's allies, are meeting at OPEC's headquarters in Vienna on Thursday. The 15-member organization and non-OPEC partners, including Russia, will reportedly negotiate steep output reductions which could start in January.
The measure is aimed at controlling global oil prices that have seen a dramatic crash of more than 30 percent over the last two months, placing the budgets of oil-exporting nations under considerable pressure.
Also on rt.com
Qatar quitting OPEC 'bad for oil cartel's and Saudi credibility'
The Saudi energy minister stressed that he doesn't support any exemptions from further slashing of oil output. However, he noted that all the participants will be listened to in order to arrive at a consensus on the issue.
Earlier, Saudi Arabia urged OPEC and its allies to curb output by at least 1.3 million barrels per day, or 1.3 percent of global production. The participants had reportedly discussed the idea of reducing output next year by reverting to production quotas agreed in 2016.
US President Donald Trump has repeatedly pushed Saudi Arabia and OPEC to boost oil production in order to drive down crude prices.
Major news media outlets have even claimed Trump tricked Saudi Arabia into increasing output which led to the current oil price plunge. He reportedly convinced the kingdom to raise output by promising to impose sanctions targeting Iranian oil exports. But later Trump allowed a number of countries to continue to buy Iranian crude, causing an overabundance of crude on the global market leading to lower prices.
For more stories on economy & finance visit RT's business section
You can share this story on social media: