Palladium threatens gold's reign as king of metals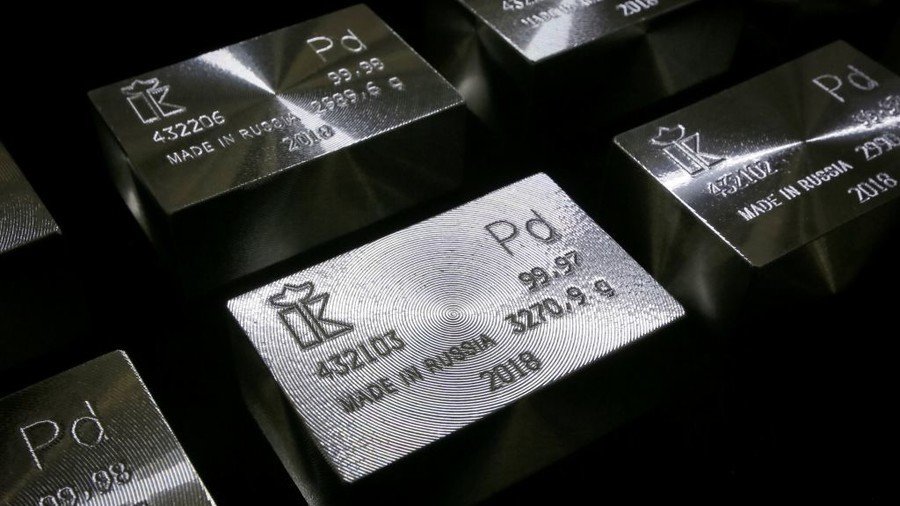 Palladium prices have skyrocketed, hitting record highs over the past year due to a growing deficit of the precious metal. The auto industry, the key consumer of the metal, is expected to bear the biggest impact of rising costs.
On Tuesday, palladium futures hit another record of $1233,82 per ounce, narrowing the price discount to an ounce of gold to the lowest margin in nearly 16 years. On Wednesday, palladium overtook gold, reaching $1,251 per ounce, as of 9:47am (GMT), while gold futures were trading at $1241 per ounce.
Palladium has taken a 49 percent jump in price since mid-August with the Wall Street Journal calling the commodity one of the best investment assets of the year. The surge in prices for the industrial metal is reportedly caused by a higher demand from the auto manufacturing sector amid the recent shift from diesel to petrol-powered engines.
Also on rt.com
Gold losing its luster as palladium prices soar; so why is Russia smiling?
Palladium is traditionally used in catalytic converters aimed at controlling exhaust emissions by converting toxic gases and pollutants into less-toxic pollutants. Nearly 70 percent of palladium demand comes from global carmakers, according to data compiled by commodities advisory CPM Group.
Analysts expect the price of palladium to keep rising as high demand for the metal, especially from China which is currently fighting for a less-polluted environment, may keep supplies quite tight.
The vast majority of the rare metal is extracted from mines in two countries. Over 80 percent of palladium global output comes as a byproduct from nickel mining in Russia and platinum mining in South Africa.
It's impossible to increase palladium output to meet the soaring industry demand, as the supplies heavily rely on volume of extraction of other metals, Steven Dunn, head of exchange-traded funds at Aberdeen Standard Investments told Bloomberg.
For more stories on economy & finance visit RT's business section
You can share this story on social media: