Tesla sales in China plummet 70% as Sino-US trade war drags on
Published time: 27 Nov, 2018 14:40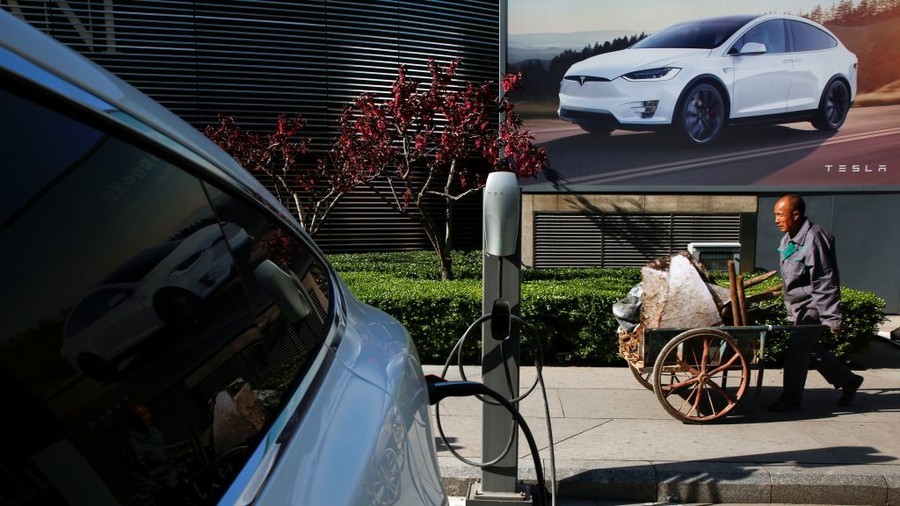 Beijing's counter-tariffs have hurt Tesla's vehicle sales in China. They are down by 70 percent in October against the same period a year ago, according to China's automotive body.
The latest data from the industry body revealed that the US automaker sold just 211 cars in China last month, an official from the China Passenger Car Association told Reuters.
In October, the electric carmaker said the increased tariffs on auto imports were putting the company in a hard position, impacting its competitive performance in China. Tesla is currently importing all the automobiles it sells in the world's largest car market. The Chinese government raised import duties on US vehicles to 40 percent as part of its retaliation against similar steps taken by Washington.
Also on rt.com
Germany tops US as China's leading car exporter amid mounting trade disputes
Last week, Tesla announced plans to slash prices of its electric vehicles, including the Model X and Model S, in China by 12 percent to 26 percent respectively. The step will reportedly make the cars more affordable and will help to absorb more of the hit from tariff hikes.
"We are absorbing a significant part of the tariff to help make our cars more affordable for customers in China," the statement reads.
Earlier this month, the US electric carmaker outlined plans to build a plant in China, where the company hopes to produce up to 3,000 of its popular Model 3 sedans a week. The measure is also aimed at reducing the impact of tariffs.
The trade conflict between Beijing and Washington started in early July after US President Donald Trump imposed a 25-percent tariff on $34 billion worth of Chinese goods. In response, Chinese authorities hit an equal volume of US goods with an import tax of 25 percent. Later, Trump extended the levies to $200 billion worth of Chinese products, with Beijing responding with another $60 billion in tariffs on US goods. So far, trade negotiations between the world's largest economies have stalled.
For more stories on economy & finance visit RT's business section