New Tesla killer: Audi's all-electric crossover may devour Elon Musk's lunch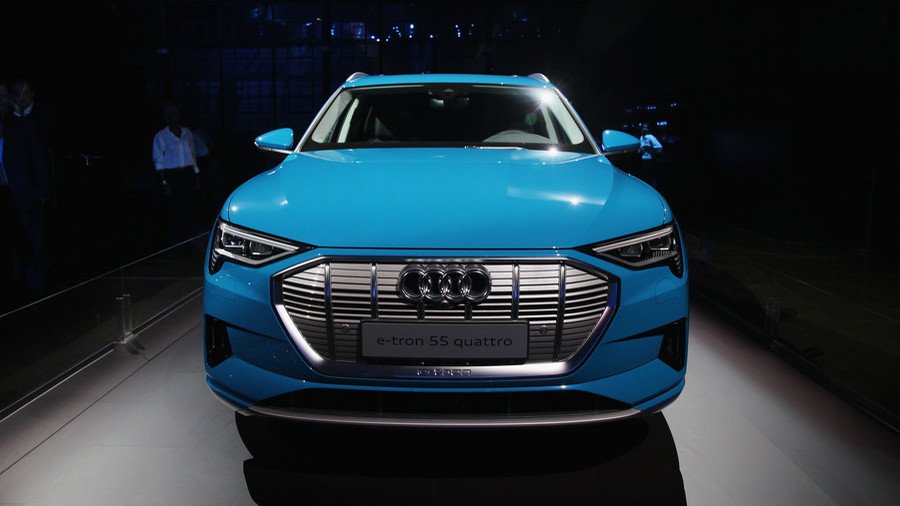 Volkswagen-owned premium brand Audi has unveiled the E-Tron, a battery-powered crossover, which is just about to hit dealerships, making the market of electric vehicles rather more choiceful for eco-friendly enthusiasts.    
E-tron, Audi's first electric sport-utility vehicle (SUV), debuted in San Francisco on Monday night. The all-wheel-drive car is powered by two electric engines and equipped with 95-kilowatt-hour lithium-ion battery that reportedly gives the e-tron "well over 400 kilometers" (250 miles) of estimated range on a full charge.
The Audi crossover that reportedly starts at $74,800 was revealed shortly after other European majors took some steps to challenge Tesla's dominance in the electric vehicles market.
Last week, Jaguar Land Rover presented its first all-electric SUV, the Jaguar I-PACE, which will be available in the US, starting at $69,500, in fall 2018. Earlier this month, the Daimler-owned Mercedes-Benz revealed the EQC sport utility crossover that will go on sale in the United States in 2020. Mercedes has not yet announced pricing for the new model.
Moreover, a German multinational BMW has unveiled a concept vehicle of a self-driving electric crossover dubbed BMW Vision iNext, while Volkswagen-owned Porsche is preparing to start sales of its Taycan electric performance car at the end of 2019. Prices are expected to start around $80,000.
The recent e-vehicles boom among the top-ranked car beasts will inevitably shake Tesla's dominance in the market of premium electric cars. The manufacturer of the world's first mass-produced electric vehicle has recently faced some problems. On Monday, Tesla Chief Executive Elon Musk admitted bigger logistical problems in Twitter responses to a customer complaint. In July, the carmaker was struggling to meet production targets for its Model 3 vehicles.
"Sorry, we've gone from production hell to delivery logistics hell, but this problem is far more tractable," Musk said in a tweet in response to a customer complaint on delivery delay. "We're making rapid progress. Should be solved shortly."
Tesla stock was up and down, closing off 0.1 percent at 294.84 on the stock market today. Volkswagen stock gained 1 percent to move above its 50-day line.
For more stories on economy & finance visit RT's business section
You can share this story on social media: