Take away land & the poor will starve, South African farmer tells RT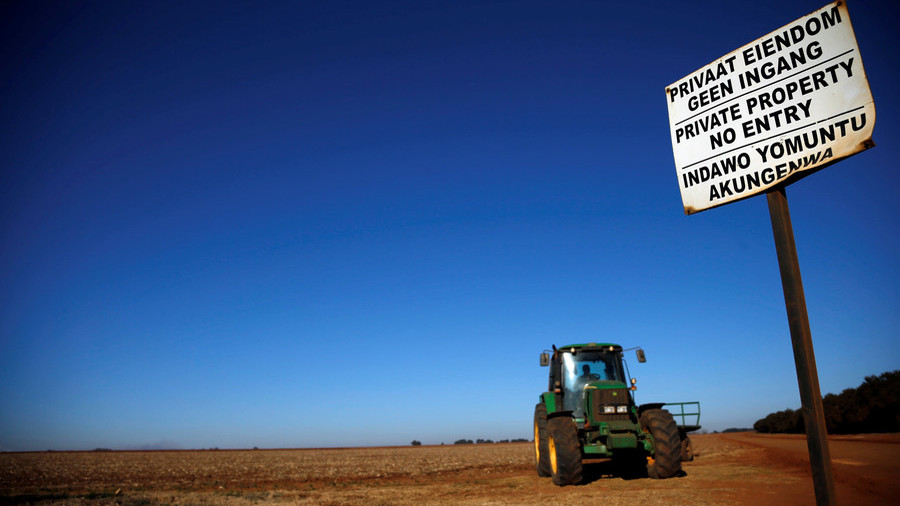 White farmers in South Africa are outraged at government plans to amend the constitution to allow their lands to be seized without compensation. Investments and food production will suffer, they warn.
President Cyril Ramaphosa announced his "democracy in action" plan this week to speed up expropriation of white-owned land. The government wants to redistribute the land to the black population of South Africa. The plan reportedly involves taking land away from several thousand white commercial farmers, without compensation.
"If you take away those role players and replace them with people that have no knowledge, have no experience, we are going to produce a lot less," South African farmer Jannie Myburgh told RT's Paula Slier. "And if we produce less food, the food prices will go up, and that will harm the people that are on the bottom of the food chain."
The farmer says ownership is the key pillar for South Africa's economic growth and warns investments from abroad may significantly go down. Myburgh also expressed deep concerns for the farmers who used to cultivate the land for decades.
"If you take ownership away from people, you're going to lose all your international investments. People are not going to invest in the country where you can't own something," Myburgh said.
"If you take away the land from people who are utilizing it at the moment without compensating, where would they go and what would they do? They have to have capital to start a new venture," the farmer added.
Under apartheid, black South Africans were not allowed to own land. As a result the country's white minority today still has a disproportionate hold over farms. When Nelson Mandela's African National Congress took power in 1994, it vowed to return 30 percent of the country's land to black owners by the year 2000.
However, the overwhelming share of land is still under white farmers' control. The South African government has recently faced growing anger from the country's black majority over the slow pace of land reforms.
"Mr. Ramaphosa wants to create wealth because there are poor people, it's true, and it's true that he wants to create jobs in the agricultural sector," Danie Du Plesies, manager of the farming union of Mpumalanga, told RT. But he stressed that those goals cannot be achieved through land expropriation.
"On one side you create wealth, and then you destroy one section that is going to create the wealth," said Du Plesies.
At the same time, those who criticize the government's plans to expropriate land warn it could lead to land grabs, as happened in neighboring Zimbabwe, where the economy collapsed after a similar land reform was implemented.
However, President Ramaphosa insists that it's clear that people in South Africa want expropriation without compensation to become "more explicit" in the constitution.
For more stories on economy & finance visit RT's business section
You can share this story on social media: