Europe threatens US with new tariffs worth $300bn as trade war escalates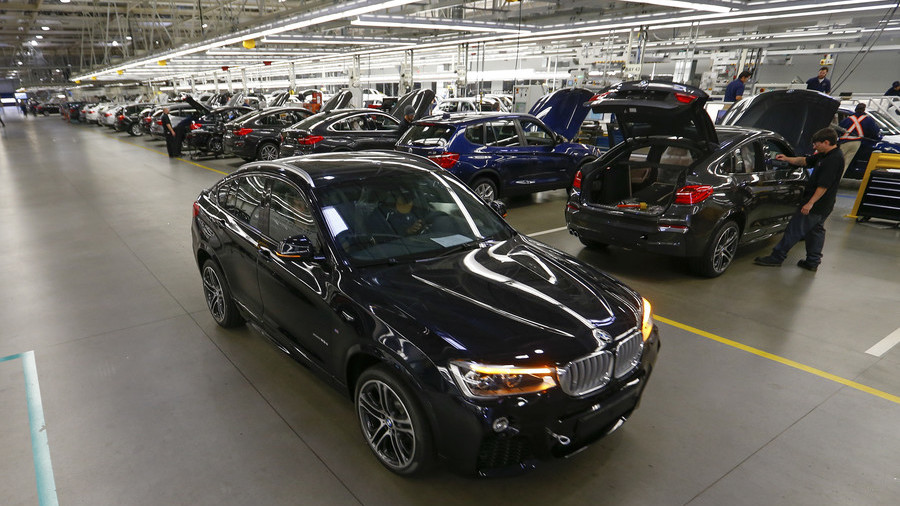 The United States could get a new round of retaliatory tariffs worth as much as $300 billion, if it moves ahead with new duties on European cars, the EU has warned.
In a written statement to the US Department of Commerce Brussels reportedly warned that imposing tariffs on European cars "will be harmful first and foremost for the US economy."
According to the 11-page document, "an additional import tariff of 25 percent, applied to automobiles and automotive parts, would in first instance have a negative impact on US GDP in the order of $13-14 billion, and the current account balance of the US would be not affected positively."
US President Donald Trump recently threatened to hit imports of European cars with a 20 percent tariff if Brussels doesn't remove levies and other trade barriers on US goods.
Trump said on Sunday that the EU was "as bad" as China when it came to the way European countries traded with the US. He dismissed suggestions that his attacks on the EU were counterproductive and that he should instead strengthen relations with European countries to tackle the Chinese trade issue together.
Talking about "the car situation" Trump told Fox News: "The European Union is possibly as bad as China, just smaller. . . It is terrible what they do to us."
The $300 billion figure identified by the EU is roughly equivalent to the value of US imports of automobiles and parts, which reached $330 billion in 2017.
According to the document, European carmakers produced 2.9 million vehicles, or 26 percent of American car production, in the US last year. Even without Chrysler, production by EU-owned companies in the US "still amounts to 16 percent of national production and 1.8 million vehicles." The Commission noted that Chrysler was once "one of the traditional US 'big three' manufacturers" but is now of "European ownership."
The EU document reminded Washington that European companies that produce in the US often import parts needed for their US factories, and also export large portions of their final product. "EU companies based in the US export a significant part of their production, thus contributing substantially to improving the US trade balance, which is a priority of the administration."
"Around 60 percent of automobiles produced in the US by companies with exclusive EU ownership are exported to third countries, including the EU. Measures harming these companies would be self-defeating and would weaken the US economy," the document said. It pointed out that cars would become more expensive and harder to sell.
The Commission has also warned that imposing tariffs on European cars could elicit "countermeasures" from the US's other trading partners. "The impact will be aggravated significantly by the likely countermeasures of US trading partners over a significant volume of trade," it said.
At a summit in Brussels last week EU leaders warned that the bloc would respond to all US actions "of a clear protectionist agenda." The EU Commission president Jean-Claude Juncker is expected to meet with Trump in Washington this month.
For more stories on economy & finance visit RT's business section
You can share this story on social media: