A glypho by any other name: Bayer to bury Monsanto brand after takeover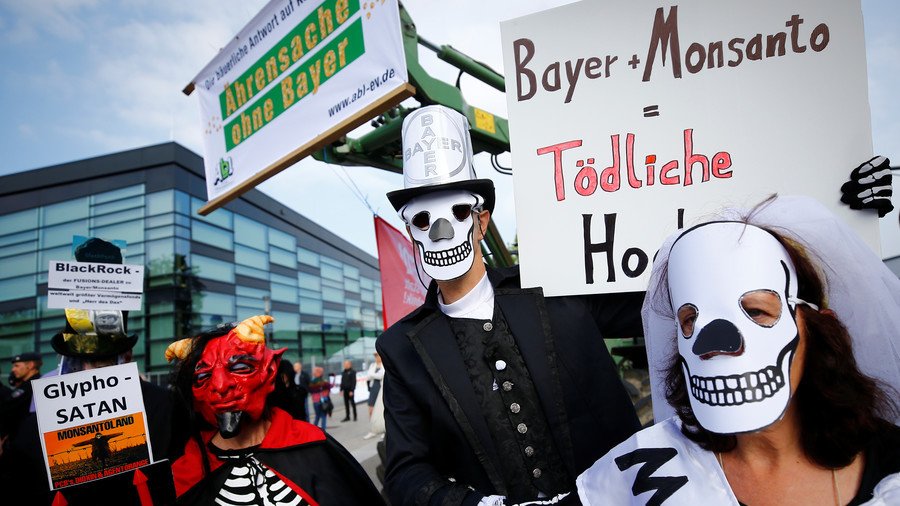 Germany's pharmaceuticals and chemicals group Bayer will wrap up the $63 billion takeover of US agrochemical giant Monsanto on Thursday, ditching the seed maker's 117 year-old name.
The deal will create the world's largest maker of seeds and pesticides, with combined sales worth about €20 billion (over $23 billion).
"Bayer will remain the company name. Monsanto will no longer be a company name. The acquired products will retain their brand names and become part of the Bayer portfolio," the German drugmaker said on Monday, adding that it had received all required approvals from regulatory authorities.
The company launched a €6 billion ($7 billion) rights issue on Sunday, shortly after clearing the last major antitrust hurdle in the US. The merged agrichemical division will be named Bayer Crop Science, according to German business newspaper Handelsblatt which cited "industry sources."
The Bayer-Monsanto merger has been strongly criticized by environmentalists and farming groups. In a letter to the European Commission before its March approval of the merger, Friends of the Earth Europe said that more than a million people had signed petitions calling on EU competition chief Margrethe Vestager to block "this merger from hell."
Last month, some 200 people demonstrated against the merger outside the German firm's annual general meeting. Bayer agreed to acquire Monsanto two years ago. It vowed not to take advantage of its market position to forcefully introduce genetically modified crops in Europe against consumers' will.
"We aim to deepen our dialogue with society. We will listen to our critics and work together where we find common ground. Agriculture is too important to allow ideological differences to bring progress to a standstill," said Bayer Chief Executive Werner Baumann.
Monsanto has a longstanding notorious reputation dating back to its production of Agent Orange, a herbicide and defoliant chemical used by the US military during the Vietnam War.
California recently added glyphosate, the main ingredient in Monsanto's herbicide Roundup, to a list of cancer-causing chemicals. The state acted after the World Health Organization's International Agency for Research on Cancer (IARC) ruled glyphosate is "probably carcinogenic to humans" in 2015. IARC said that along with other Monsanto chemicals Roundup could cause Parkinson's disease, Alzheimer's disease, autism, and cancer. Monsanto has rejected all allegations and scientific findings of carcinogenicity of the chemical.
For more stories on economy & finance visit RT's business section
You can share this story on social media: