World's first floating nuclear power plant reaches Russia's Arctic for maiden mission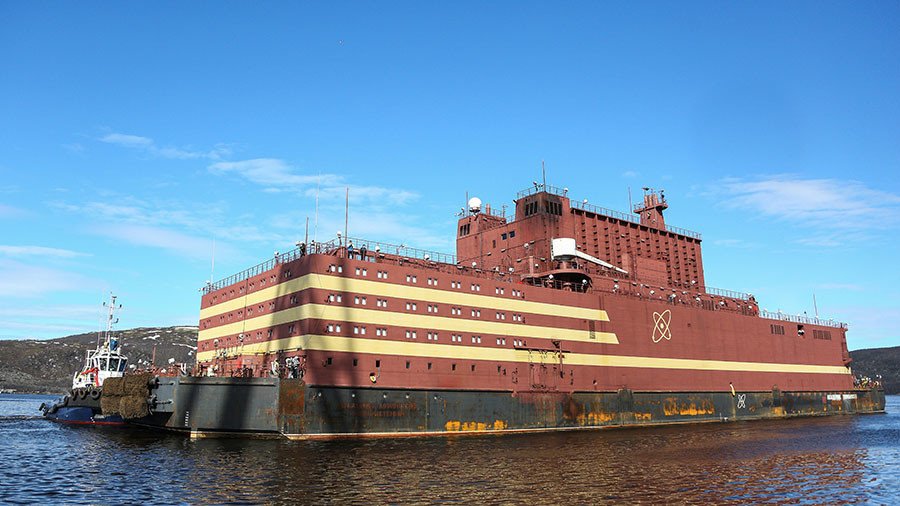 The first sea-borne nuclear power plant made in Russia has been towed to the country's Arctic port of Murmansk, ready to undertake its first mission, generating electricity in remote locations.
The water-borne power plant, named Akademik Lomonosov, was built by the state-run nuclear corporation Rosatom in St. Petersburg. The new vessel is set to pioneer a new power source for remote regions of the planet, the company says.
The floating nuclear power plant will take on board a supply of nuclear fuel and will then be towed to Pevek, a small town in the Far Eastern region of Chukotka. The port of Pevek, which is located in Russia's extreme northeast, is separated from the US state of Alaska by the 86-km (53 mile) wide Bering Strait.
The power plant is set to start providing electricity for homes as soon as in 2019, replacing a coal-powered plant and an old nuclear power plant that provides electricity to more than 50,000 people in the region.
According to Rosatom, small sea-borne power units are best suited for remote areas. The plants may help to reduce greenhouse gas emissions, which are blamed for global warming. Power plants of this kind are able to operate without stopping or the need for refueling for up to five years. The vessels were created to make it possible to supply electricity to hard-to-reach regions of the huge country.
However, green campaigners have raised some concerns over the risk of nuclear accidents. Greenpeace has dubbed Akademik Lomonosov the "nuclear Titanic." Various environmental protection groups sent Rosatom a letter, calling for full and unrestricted regulatory oversight of the vessel. The floating power plant will not just generate electricity for Pevek, it will be used for oil and gas exploration as Russia is pushing development further north into the Arctic.
For more stories on economy & finance visit RT's business section
You can share this story on social media: