India's renewable capacity set to double by 2022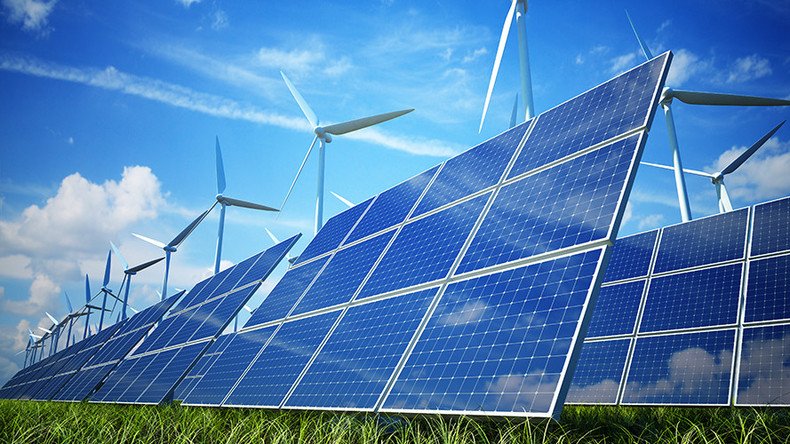 If there's one success story being written in India, it's that of renewable energy. By the government's own reckoning, despite India's energy needs likely to double over the next seven years (going by the current rate of economic growth), the nation is likely to meet two-fifths of its electricity needs with renewable sources by 2030.
Power and Renewable Energy Minister R K Singh told reporters recently that the efficiency of solar panels itself had already reached 30 percent, and prices were likely to reduce due to an increase in usage.
READ MORE: India about to step up its renewable energy game
The government's stipulated target is of 175 Gigawatt (GW) of renewable generation by 2022, which includes 100 GW of solar and 60 GW of wind generation, up from the current total renewable energy generation capacity of about 59 GW (with wind already now at about 33 GW).
What's more, a report this month by the International Energy Agency (IEA) said India's renewable energy capacity would more than double by 2022, which would be enough to overtake renewable expansion in the European Union for the first time.
India's present-day renewable energy installed capacity is about 59 GW. "By 2022, India's renewable capacity will more than double. This growth is enough to overtake renewable expansion in the European Union for the first time," IEA said in its latest renewables market analysis and forecast.
READ MORE: Russia to develop India's nuclear power industry
The IEA added that the solar photovoltaic (PV) and wind together represented 90 percent of India's capacity growth, as auctions yielded some of the world's lowest prices for both technologies.
India needs an investment of around U.S. $100 billion to meet the target of 175 GW of renewable energy capacity by 2022.
As of now, China was the undisputed leader of renewable electricity capacity expansion over the forecast period, with over 360 GW of capacity coming online. China, as per the IEA, had already exceeded its 2020 solar PV target three years ahead of time and is set to achieve its onshore wind target in 2019.
READ MORE: Youth to propel India's rise to become global economic superpower
China, India and the US will account for two-thirds of global renewable expansion by 2022, according to the IEA report. The total solar PV capacity by then would exceed the combined total power capacities of India and Japan today, it added.
The power consumption of electric vehicles — including cars, two- and three-wheelers, and buses — was expected to double over the next five years. Renewable electricity is estimated to represent almost 30 percent of their consumption by 2022, up from 26 percent today.
This year's renewable forecast was 12 percent higher than last year, mostly because of solar PV traction in China and India.
This article was originally published on Oilprice.com
You can share this story on social media: