Russia to develop India's nuclear power industry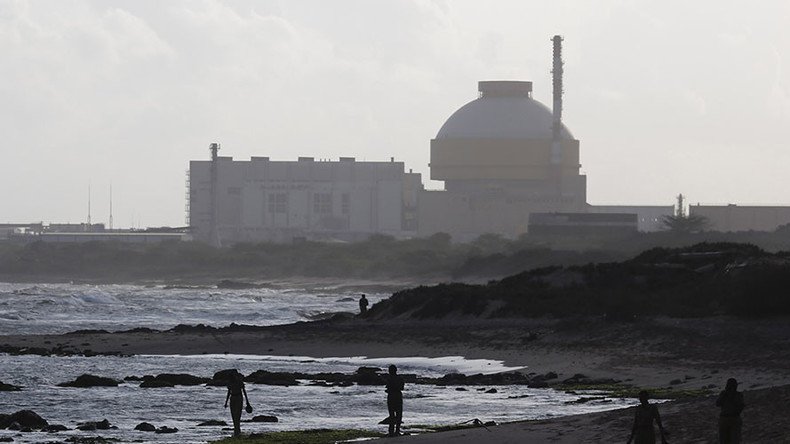 An agreement to construct the third stage of India's Kudankulam nuclear power plant is expected by year end, said Russian President Vladimir Putin on Wednesday.
"We have big plans with our Indian friends in the area of nuclear energy. Construction work on the third and fourth blocks of the plant started in February. We expect to sign a general framework agreement and a credit line for the construction of a third stage by the end of this year," Putin said during a video conference dedicated to the handover of the plant's first power unit to India.
The power station is currently being built by the Russian nuclear corporation Rosatom as part of a deal signed between Moscow and New Delhi in 1998.
Putting into operation the first and second reactors of the Kudankulam nuclear power plant (NPP) will enhance India's energy supply and strengthen its economic position, said Putin adding that eighty percent of the project's financing is covered by a Russian loan.
Indian Prime Minister Narendra Modi said the country plans to build a number of 1,000-megawatt nuclear power plants with Russia.
I have always deeply valued our friendship with Russia & it is fitting that we jointly dedicate Kudankulam Nuclear Power Plant Unit 1: PM

— PMO India (@PMOIndia) August 10, 2016
"In the years ahead we are determined to pursue an ambitious agenda of nuclear power generation. At Kudankulam alone, five more reactors of 1,000 megawatt each are planned. In terms of our cooperation with Russia, we plan to build a series of bigger nuclear power plants," Modi said.
Two years ago Russia and India signed an agreement to construct the NPP's second stage, including the third and fourth blocks. During Modi's visit to Moscow in December the sides decided to develop a road map for cooperation in nuclear energy which envisages the construction of 15 nuclear reactors in India, including at the Kudankulam site.
At the moment, Russia is the only country cooperating with India on nuclear energy. The first reactor at the Kudankulam NPP is among the most powerful in India, and meets the latest safety requirements. The second generator is planned to start operating in the coming months.
You can share this story on social media: