Crimea river: Ukraine wants to bill Russia for future 'financial losses' from Kerch Strait bridge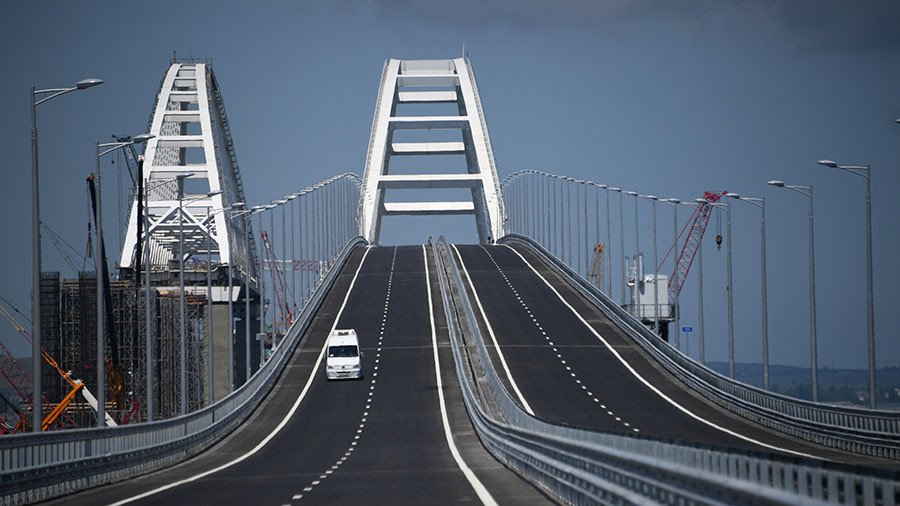 The head of Ukraine's Ministry of Infrastructure, Vladimir Omelyan, has estimated potential financial losses stemming from the launch of the Crimean Bridge, and vowed to make Russia foot the bill.
"We are roughly estimating our annual lost revenues at around 500 thousands hryvnia [$19 million]," the minister told a Ukrainian media NEWSONE. "They are coming from contraction of merchant tonnage entering our two ports in Azov Sea."
Omelyan also highlighted that indirect damages to the Ukrainian budget may comprise billions of hryvnia, as "every second the Kerch Strait is at threat of shutdown."
Plans to construct the Crimean Bridge to connect the Russian mainland to the peninsula began after the Crimean Republic reunited with the Russia in spring 2014, after over 96 percent of the residents approved the move in a snap referendum.
Earlier this week, the bridge was opened to car traffic with the railway expected to be completed in 2019. At 19 kilometers long, the Crimean Bridge is the longest in continental Europe. The link begins on the Taman Peninsula, passes over a 5km dam and Tuzla Island, crosses the Kerch Strait and reaches the Crimean coast.
Earlier, the US State Department accused Russia of flouting international law by building a bridge to "occupied" Crimea without the permission of the government of Ukraine. Russia responded that it does not need to "ask for anybody's permission to build transport infrastructure for the sake of the population of Russian regions."
For more stories on economy & finance visit RT's business section
You can share this story on social media: