Why American LNG is no substitute for Russian gas in Europe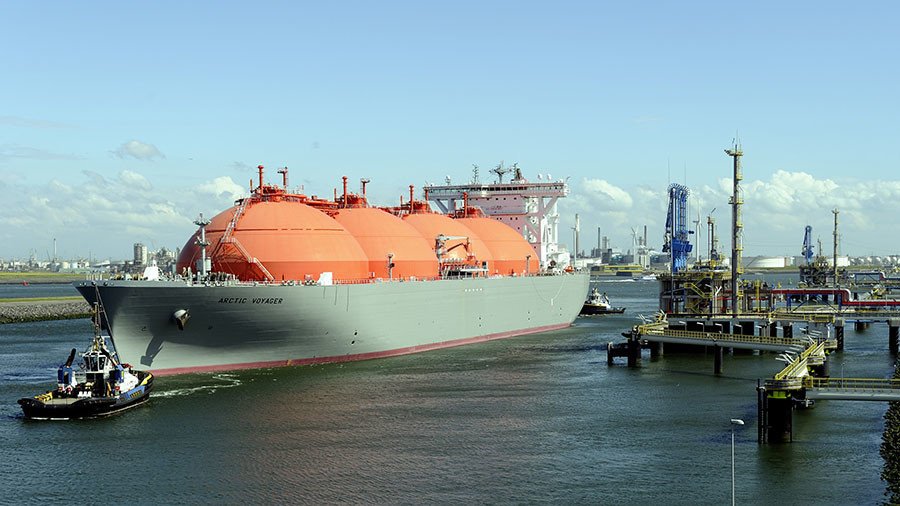 Washington's plan to oust Russian natural gas from the European market and substitute it with its own liquefied natural gas (LNG) shipments is not economically feasible, analysts told RT.
"American LNG exports have failed to become a full-fledged alternative to Gazprom's pipeline gas in Europe, as the latter has set another record-high last year. About half of the US LNG supplied to Europe is purchased by countries that do not have long-term contracts for Russian gas (formerly Spain and Portugal)," Maria Belova, head of research at VYGON Consulting, told RT.
The analyst notes that US gas is not a viable alternative to the pipeline supplies of Gazprom, which has renewed its historical record in export volume to Europe for the second consecutive year, due to the competitive pricing.
"The current price advantage of Russian pipeline gas appeared thanks to the price formula mechanism in the supply contracts. Gazprom gas price has not yet managed to react to a significant increase in oil prices, which began in mid-2017, in contrast to spot gas prices at European gas hubs. Up to 2016 the spot prices at the EU hubs have been consistently below the price of Russian gas with oil linkage. As a result of a number of revisions to the terms of Gazprom contracts, the price correlation has increased and the differential with spot price has narrowed," she said.
Germany has once again announced plans to build a $500 million LNG terminal on the Elbe river to diversify from Russian and Norwegian gas imports. The Brunsbuettel would be Germany's first LNG plant and open by the end of 2022. But the expense of building the terminal and cheaper Russian gas have held up the project for years.
Belova explained to RT why American gas is more expensive than Russian: "The average Gazprom price at the Germany border in 2017 neared the average European price (weighted average price of long-term contracts and spot prices) at around $5.65 per MMBtu. The estimated Gazprom price at the Germany border in the first quarter of 2018 increased to $7.15 per MMBtu. The US LNG gas landed and regasified in Belgium (Germany doesn't have any LNG receiving terminals) cost around $7.9 per MMBtu, $8.1 per MMBtu in the first quarter of 2018. Therefore, American LNG is the more expensive option compared to Russian gas," she wrote.
The US has repeatedly tried to thwart the extension of the Nord Stream pipeline from Russia to Germany, which will double the existing pipeline's capacity. Moscow has accused Washington of trying to force-feed American LNG to Europe. Despite US efforts to block the Russian project, Gazprom has received permission to build the pipeline.
For more stories on economy & finance visit RT's business section
You can share this story on social media: