Trump slams OPEC for keeping crude prices 'artificially high'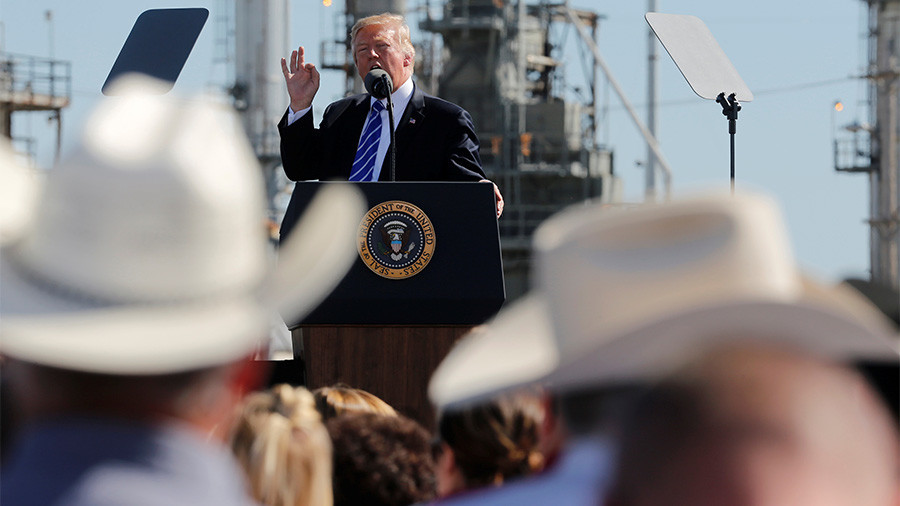 US President Donald Trump has accused the Organization of the Petroleum Exporting Countries (OPEC) of propping up oil prices, which have reached their highest level in over three years.
"Looks like OPEC is at it again. With record amounts of Oil all over the place, including the fully loaded ships at sea, Oil prices are artificially Very High! No good and will not be accepted!" Trump tweeted on Friday.
Oil prices are at the highest level since the end of 2014. Brent crude is trading near $74 per barrel, while the US WTI is around $68. Trump's post sent both blends half a dollar down on Friday.
The US leader's comments come after Saudi Crown Prince Mohammed bin Salman announced in March a plan for a huge oil deal between OPEC and Russia, reportedly aimed at helping Moscow and Riyadh control the oil markets for the next two decades.
Saudi Arabia is reported to be interested in pushing oil prices back to $100 per barrel to cut its huge fiscal deficit and also inflate the value of Saudi Aramco ahead of the company's IPO in 2019.
OPEC and other countries achieved more than 140 percent of their agreed oil-production cuts in March, officials at the meeting said. While Trump claims he wants to see lower oil prices, his foreign policy has been supporting their growth.
After the administration reshuffle in March and appointment of John Bolton as national security adviser, the markets have been expecting a tougher policy against key crude oil exporter Iran, which could make the crude prices explode.
Iran sells 2.1 million barrels per day abroad, and if the supply chain is disrupted, the world may face an oil deficit opposed to the surplus that had dominated the markets for three years before the OPEC-Russia deal.
"The OPEC+ production cuts deal has led to the long-awaited balance of supply and demand," Maria Belova, head of research at VYGON Consulting, told RT. "However, oil prices are more vulnerable to geopolitical changes than a year ago," she added.
For more stories on economy & finance visit RT's business section