Russia's gold rush continues, with reserves at all-time high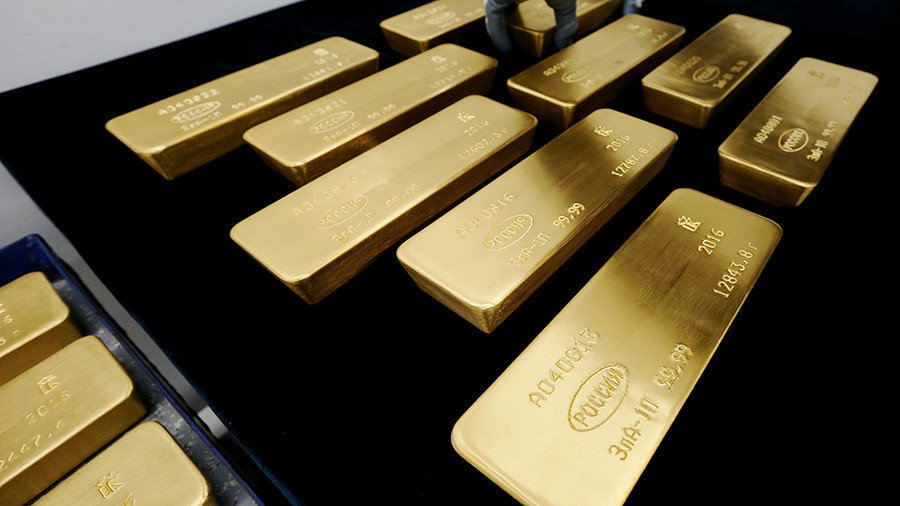 The Central Bank of Russia (CBR) has been increasing its holdings of gold every month since March 2015. The country is currently the sixth-largest gold owner after the United States, Germany, Italy, France and China.
According to the CBR, gold reserves spiked to $455.2 billion between March 2 and 9 hitting a historic high not seen since September 2014.
"Our international reserves increased by $2.9 billion or 0.6 percent in a single week, mainly on the strength of positive re-evaluation," said the regulator.
In January, Russia surpassed China, which reportedly held 1,843 tons of the precious metal at that time. Over the last 15 years, Moscow and Beijing have been aggressively accumulating gold reserves to reduce their dependence on the US dollar.
According to World Gold Council data, last year the CBR became a world leader in stockpiling gold.
The bank has more than doubled the pace of its gold purchases, statistics showed. It has been increasing Russia's gold reserves to meet the goal set by President Vladimir Putin to make it less vulnerable to geopolitical risks. The Russian gold cache has increased by more than 500 percent since 2000.
Russia is also the third-largest producer of the precious metal. In the past decade alone, Russia has mined more than 2,000 tons of gold, with annual production expected to rise by 400 tons by 2030.
The government has purchased two-thirds of all the gold mined in country, buying it from local banks, as the Kremlin sees the precious metal as a safe haven at a time of geopolitical turbulence.
Reserve diversification is one of the primary reasons Russia buys gold, according to the CBR.
For more stories on economy & finance visit RT's business section
You can share this story on social media: