Venezuela raised $735mn on launch of oil-backed 'petro' cryptocurrency – Maduro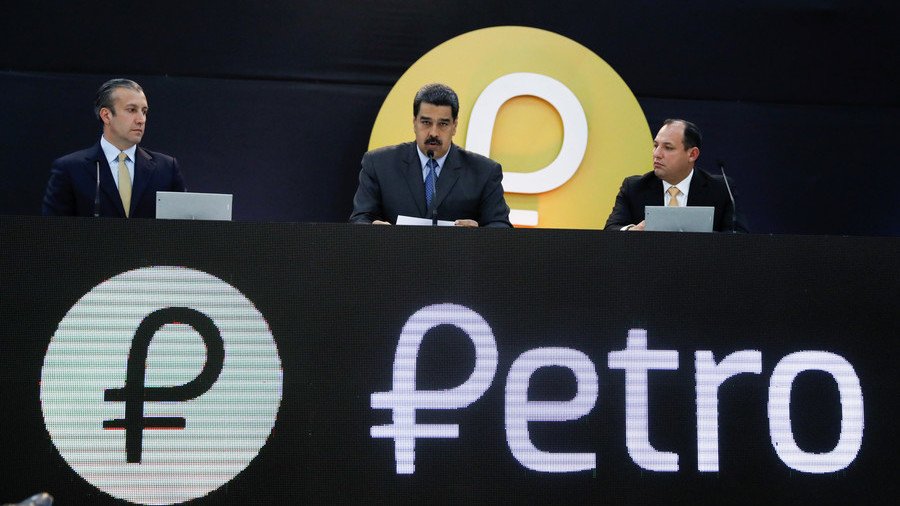 Investors have purchased some $735 million worth of Venezuela's oil-backed cryptocurrency on the very first day of pre-sale, according to President Nicolas Maduro, who praised it as means of breaching the US financial blockade.
"Today, a cryptocurrency is being born that can take on Superman," Maduro announced on Tuesday, referring to the US as a comic character. The Venezuelan leader, however, provided no details about the first investors in the 'petro', which is backed by the country's oil, gas, gold and diamond reserves.
"The Bolivarian Republic of Venezuela guarantees that it will receive PETRO as a form of payment for national taxes, fees, contributions and public services, taking as a reference the previous day's Venezuelan oil basket price with a discount," says the official website for the newly-launched asset, which is set to go public next month.
The official 'white paper' about the 'petro' emphasizes that the Venezuelan government is also "committed to promoting the use of Petro in the domestic market and making efforts to stimulate its acceptance throughout the world."
Venezuela's regulator said last week that it was planning to draw initial investment from Qatar, Turkey and other Middle Eastern countries, as well as from European nations and the US. The US Treasury Department, however, warned such investments would violate sanctions levied by Washington against Caracas, which technically prevents US banks and investors from openly acquiring petro.
The 'petro' cryptocurrency was announced by Maduro at the beginning of December as a way "to innovate toward new forms of international finance for the economic and social development of the country."
Promoting it as the first state-issued cryptoasset, Maduro explained that the purpose of the currency was "to advance the country's monetary sovereignty," while the opposition-controlled legislature protested against the endeavor, slamming it as an illegal debt issuance and yet another attempt to circumvent lawmakers.
For more stories on economy & finance visit RT's business section
You can share this story on social media: