Florida massacre sparks brief rally in gun stocks amid downward trend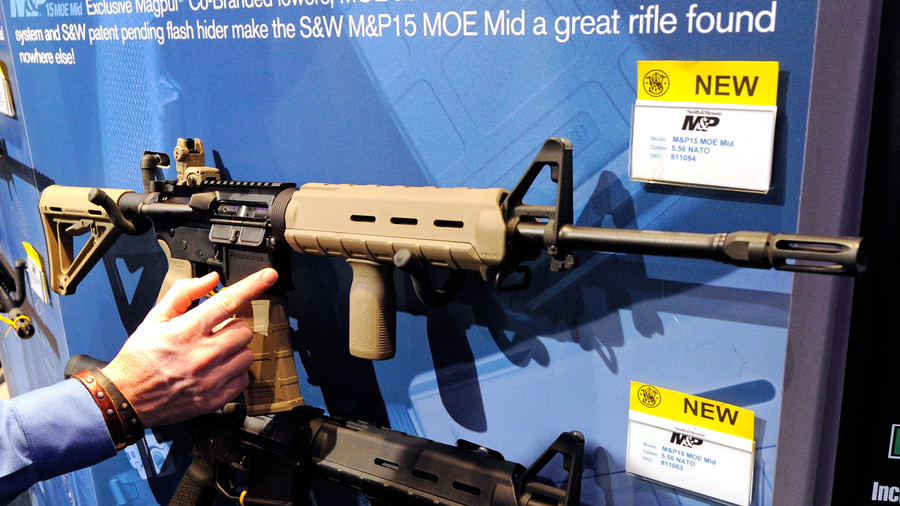 American Outdoor Brands, the company which makes the AR-15 semi-automatic rifle, saw its shares rise by 1.49 percent in the aftermath of the Florida school shooting that killed 17 people and injured a dozen Wednesday.
While gun and ammunition maker stocks typically rise in the wake of a major shooting incident in the US, in response to a highly charged political climate as well as heightened public anxiety about personal safety, the overall US gun market has experienced a slump since the 2016 election of President Donald Trump.
American Outdoor Brands (AOBC, formerly Smith & Wesson) fell two percent after initial gains in share price exceeding four percent. Its main competitor Sturm Ruger (RGR) fell one percent while ammunition maker Olin Corp (OLN) also fell one percent despite both having closed up on Wednesday, the day of the shooting.
Remington Outdoor Co. was the big surprise, having announced plans to file for bankruptcy midweek, jumping seven cents on the dollar, marking its largest-ever intraday gain. For reference, the overall S&P 500 was up one percent on Thursday, according to CBS.
Nikolas Cruz used a Smith & Wesson M&P15 rifle, a variant of the AR-15, to carry out the attack at the Marjory Stoneman Douglas High School in Parkland, Florida, on Wednesday. This marks the third time an M&P15 has been used in a mass shooting in the US in recent history: 12 people were killed and 70 injured in the 2012 Aurora shooting while an illegally-modified version of the rifle was used in the San Bernardino massacre in which 14 people died and 22 were injured.
M&P, which stands for Military and Police, was a subset of the Smith & Wesson brand which was later bought by American Outdoor Brands. The M&P15 is widely available on the retail market, selling for roughly $500 to $600.
Other AR-15 style rifles were used to carry out the shootings in Newtown, Connecticut, Orlando, Florida, Las Vegas, Nevada, and Sutherland Springs, Texas reports TIME.
After previous mass shootings, gun maker stocks typically experience a boost of roughly 1.6 percent in the five days following the tragedy amid fears of tighter gun control legislation. However, given that the Republican party controls both the House and the Senate, with many of its members receiving contributions from the National Rifle Association (NRA), new gun-control legislation is highly unlikely.
This fact did not prevent Democrats from ramping up the rhetoric in an already-heated debate which reignites after every such mass shooting.
American gun stocks have experienced something of a sell-off since the 2016 presidential election as retailers stocked up expecting Hillary Clinton to win. Many have not been placing orders with manufacturers in the wake of Trump's somewhat unexpected victory as they try to reduce their inflated weapons inventories at discounted rates. However, with little to no expectation of sweeping gun control reform, the demand side simply isn't there.
Since 2016, American Outdoor has lost 62 percent of its value, Vista Outdoor Inc. is down 50 percent, and Sturm Ruger is down 23 percent, reports Bloomberg. In addition, background check data indicates a decline overall and January 2018 numbers were the lowest for any January since 2012. Overall, American Outdoor's profits slid 90 percent in 2017 while Sturm Ruger reported a decline in quarterly profits of 35 percent last October.
"Everyone thought Hillary was going to win. These retailers and distributors stocked up on the product before the election. They were really expecting a dramatic surge," said Rommel Dionisio, a managing director of equity research at Aegis Capital who specializes in publicly traded firearms companies, as cited by Bloomberg. "The scenario didn't materialize, so after the election, they're stuck with excess inventory. They've been trying to work down that inventory, bring them down to normal levels, and in the meantime not ordering from manufacturing."
In addition, the FBI reported a total of 2,030,530 firearm background checks in January this year, down from 2,043,184 in 2017 and from 2,546,805 in January of 2016.
"There are strong desires with people to protect themselves. And again, we saw that last year when there were a number of events that drove people to think about that more strongly than ever before, and that does happen from time to time, as we've seen in our history," P. James Debney, CEO of American Outdoor Brands, said on a call on September 17, 2017 as cited by CBS. "There is no fear-based buying right now," Debney said in December.
You can share this story on social media: