Oil prices sink in American crude as US production surges to 40yr high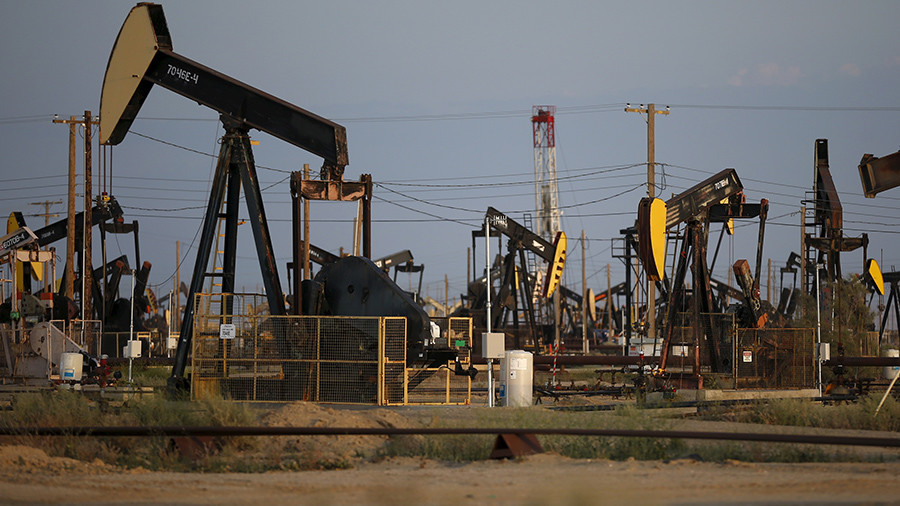 Crude oil prices were falling on Thursday following news that US oil production has surged above 10 million barrels per day. Brent crude was trading at $65.05 per barrel at 10:40 GMT, down 52 cents, or 0.7 percent.
US West Texas Intermediate (WTI) crude dipped to $61.27 a barrel, or 48 cent down compared to the previous day's trading.
The key driver for the price decline was news from the United States. American oil production soared above 10 million barrels per day (bpd) for the first time since the early 1970s last week, reaching 10.25 million bpd. US output has grown by more than 20 percent since mid-2016 - one of the highest paces ever seen.
In addition, the US Energy Information Administration said on Wednesday that US crude stockpiles rose by 1.9 million barrels last week. S&P Global Platts' analyst expected a 2.8-million-barrel increase.
"Such a rapid increase in production makes traders nervous. It takes a lot of courage to take long positions when production in the US grows at such a rate. Surely, many already feel that in 2018, the rate of growth in production may exceed the growth rate of world demand," said Valery Polkhovsky, analyst of FOREX CLUB in a statement to RT.
"In the short term, due to high volatility, Brent prices may drop to $60, but as for futures with later expiration dates, any drop in the area of $60-65 per barrel is a signal to buy."
Earlier this week, the EIA raised US production forecasts to 10.59 million bpd this year and 11.18 million bpd next year. Both figures are up 3.1 percent. Some analysts predict the US could become the world's top oil producer, as the current leaders Russia and Saudi Arabia are bound to the OPEC+ output cuts.
For more stories on economy & finance visit RT's business section
You can share this story on social media: