You can buy almost anything online in China, even a jumbo jet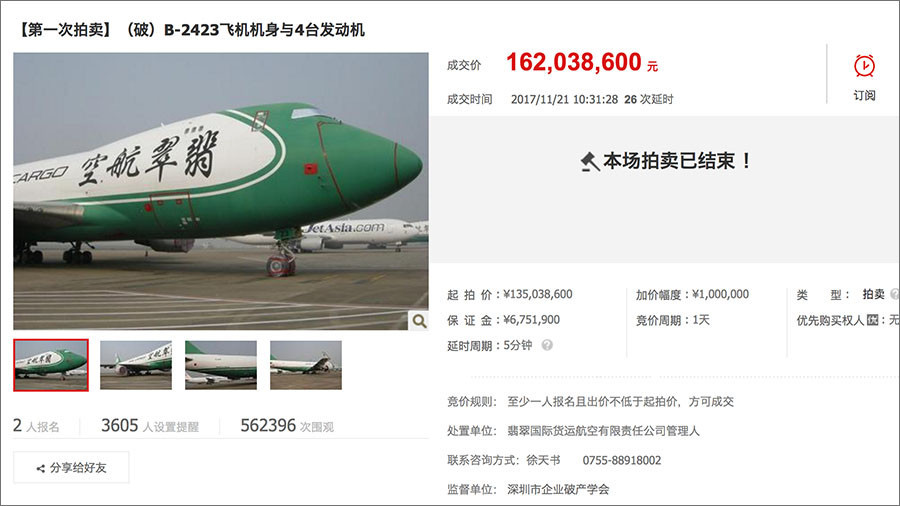 Online shopping in China is reaching a new level after two Boeing 747 planes were sold on Alibaba's e-commerce platform Taobao. This is the first time airliners have been purchased via an online auction.
The jets were bought by Chinese cargo airline SF Airlines for more than 320 million yuan ($48 million) from the Intermediate People's Court in the city of Shenzhen, southeastern China, Alibaba-owned South China Morning Post reported. The court seized the Boeings after Jade Cargo International went bankrupt in 2013.
The court had organized offline auctions at least six times to sell the jets since 2015, but all attempts failed. It finally decided to auction them off on Taobao, a Chinese equivalent of e-Bay, in September.
All in all, the court auctioned off three jets. One remains unsold with a starting bid of 122.6 million yuan ($18 million). The 'lucky' jets which were sold at the auction are parked at Shanghai Pudong International Airport.
This is the first time passenger jets have been sold at a Taobao judicial auction, according to the court. The posh auction gathered around 800,000 viewers, Xinhua reported, adding that the deals were reached after 26 bids.
"Online auctions are a good way to handle the property of bankrupt firms," Long Guangwei, the court's vice president, told Xinhua. "Online auctions save time and service fees for bidders."
According to the general manager of Alibaba's auction business, Lu Weixing, "online auctions help transparency in legal affairs because all information is there for all to see."