'Perfect gemstones': Russia exhibits unique collection of 5 diamonds worth $10mn (PHOTO, VIDEO)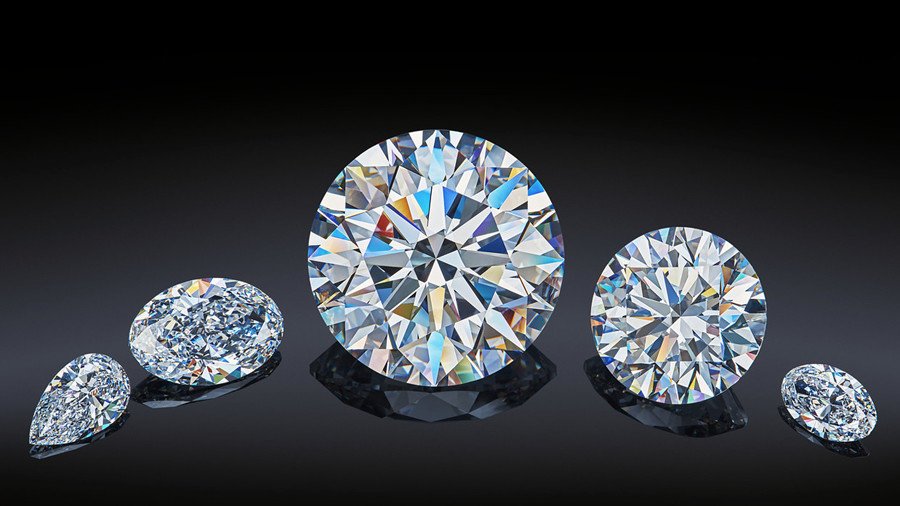 A collection of five unique diamonds, cut in Russia from a single 179-carat crystal, has dazzled connoisseurs in New York. Priced at some $10 million, the set includes Russia's most expensive and clearest stone ever produced.
"These are perfect gemstones. Russia has never seen such a quality before," said Pavel Vinikhin, the CEO of the diamond division of the Russian mining giant Alrosa. The exhibition in Carnegie Hall was the diamonds' final stop before they go on sale in an online auction on November 29. The New York venue winds up the roadshow that saw the gems displayed in Moscow, St. Petersburg, Vladivostok, Hong Kong and Israel.
"This is a real masterpiece, the Russian cut, the skill of Russian professionals to produce what others cannot do," Vinikhin said, describing the "Dynasty" collection. "Each of these five diamonds was cut from a sole rough diamond. It was polished in Moscow, we have been working on it for a year and a half," he said, adding that all five meet the highest standards of color and quality.
In 2015, the company unearthed the 179-carat rough at the Nyurbinskaya kimberlite pipe in the Siberian Sakha region. Named after the Romanovs dynasty, the finding was split into five polished gems, which were graded by the Gemological Institute of America. Less than 3 percent of the world's diamonds can boast same quality and clearness, Alrosa claims.
READ MORE: Russia's purest & most expensive diamond to go on sale
Polishing five separate diamonds from one is "very, very rare," according to the company's sales director, Evgeniy Tsybukov.
"All five diamonds have become decolored, the best color, and with VVS1 clarity," Tsybukov said. This is the third grade of clarity on a scale of 11, meaning any flaws are so miniscule, only an expert, equipped with a microscope and viewing the stone from the bottom, can detect them.
The collection's biggest "Dynasty" piece "has no matches in Russian history in terms of overall quality characteristics. This is the most clean and expensive diamond ever cut in our country, the pinnacle of Russia diamond cutters' craftsmanship."
Apart from the main 51.38-carat Dynasty gem, the set flaunts a 16.67-carat round-cut Sheremetevs diamond, a 5.05-carat oval Orlovs diamond, a 1.73-carat pear-cut Vorontsovs diamond, and a 1.39-carat Yusupovs diamond. All of them bear family names of the famed nobility dynasties of the Russian Empire, who contributed to developing the nation's jewelry industry. The starting price for the collection is set at $10 million, according to Alrosa president Sergey Ivanov.
You can share this story on social media: