Middle East looks to Russia for joint construction of new passenger jet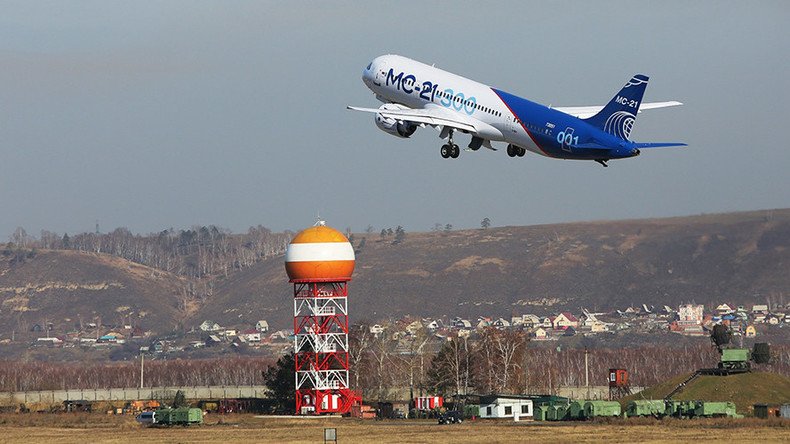 Russia and the United Arab Emirates (UAE) are planning to jointly develop a civil aircraft based on Russia's MC-21 jetliner, according to Rostec CEO Sergey Chemezov.
"They [the UAE] want to create a large transport aircraft together with us, as well as a passenger jet on the basis of the MC-21 400. They have many wishes," Chemezov told journalists on the sidelines of Dubai Airshow 2017 on Sunday.
According to Chemezov, the countries will soon create a working group on the new plane. The UAE is home to two of the world's biggest airlines, Emirates, and Etihad, as well as many smaller ones.
Russian Deputy Prime Minister Dmitry Rogozin said Russia is developing a special version of the MC-21 for the Middle East market.
The producer of the MC-21 boasts a lower price and higher cruising speed than rivals Airbus A320neo or Boeing 737 MAX. In Russia, the jet is expected to replace Soviet-ear planes such as the Tu-134, Tu-154, Tu-204, and Yak-42.
The MC-21 has significantly more space for passengers given the aircraft having the widest fuselage in its class. It also has extra-large windows. According to the maker, there are orders for 175 MC-21 jets, with the biggest airline order coming from Russia's largest carrier Aeroflot.
The MC-21's maiden flight took place in Russia's Irkutsk in May. Mass production is scheduled for 2019.
The UAE is also interested in using the Baikonur Cosmodrome. Negotiations for its use by Russia, Kazakhstan, and the UAE will continue, Rogozin said.
"For us, the UAE is certainly a difficult country, we are developing relations with them, as well as with Saudi Arabia. Until now, there has been an American monopoly, but we are beginning to change this situation," Rogozin told the TASS news agency.
You can share this story on social media: