Death from overwork in Japan as woman dies after 159 hours of overtime
Published time: 6 Oct, 2017 09:52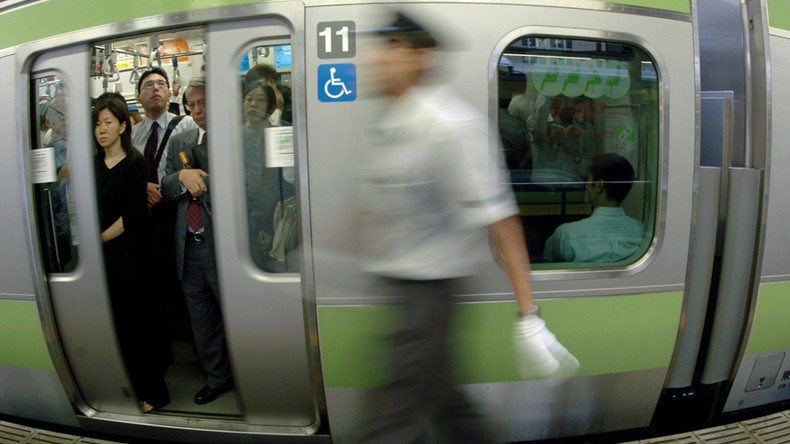 Labor regulators in Japan have ruled 31-year-old journalist Miwa Sado died in 2013 from heart failure as a result of a grueling work schedule, including 159 hours of overtime and just two days off in a month.
A political reporter at Japan's NHK broadcaster, Sado had been covering elections for Tokyo's government and the national Parliament in the months leading up to her death in 2013. She died three days after the elections for Japan's upper house.
The circumstances of her death had not been made public until this week.
NHK said it was taking the death of its employee very seriously, pledging to reform the way its reporters work.
Death from overwork is a long-standing problem in Japan and is considered a social issue known as 'Karoshi.'
READ MORE: 'Karoshi': 20% of Japanese employees risk death from overwork, survey shows
Media reported on Friday that Japanese advertising firm Dentsu has been fined 500,000 yen ($4,400) for making employees work excessive overtime.
Dentsu's workplace practices have come under scrutiny after 24-year-old Matsuri Takahashi, who was working more than 100 hours of overtime a month, jumped to her death from the company's dormitory in 2015.
"I'm going to die. I'm so tired," she wrote on Twitter before committing suicide.
Later that year, 34-year-old maintenance worker Kiyotaka Seriwaza killed himself after putting in 90-hour weeks at a company from which he had tried, unsuccessfully, to resign.
A Japanese government poll into Karoshi showed one in five employees faces the risk of death from overwork.
The Japanese are known for their strict work culture and putting in long hours. Hundreds of deaths from overwork are recorded every year, most of which are due to strokes, heart attacks, or suicide.
According to National Police Agency statistics cited by the Japan Times, 2,159 people took their own lives due, at least in part, to work-related problems in 2015.
READ MORE: Ending 'death by overwork' bad for Japan's economy - Deutsche Bank
The problem of overwork, as well as the deaths and medical, psychological, and emotional disorders resulting from it, has been acknowledged in Japan since at least the 1980s.
The Japanese government is now aiming to lower the percentage of employees working more than 60 hours per week to five percent of the total workforce.
It also intends to convince all workers to take at least 70 percent of their paid holiday by 2020.