Russia breathed life back into OPEC – Saudi energy minister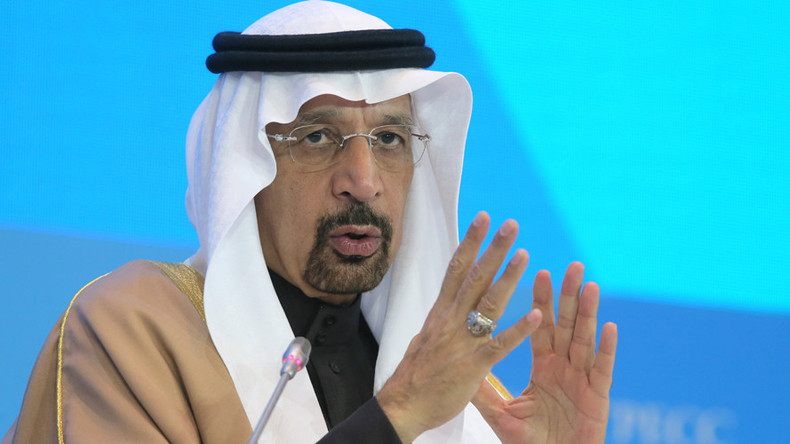 Saudi Arabia's Energy Minister Khalid Al-Falih said the partnership between Moscow and Riyadh has inspired unprecedented cooperation from 24 oil-producing states, including Organization of Petroleum Exporting Countries members and non-OPEC nations.
"It has breathed back life into OPEC which found itself, quite frankly, unable to swing its production as supply was persistently high in 2014 and global inventories were steadily rising ahead of demand," he said at the Russia-Saudi investment forum in Moscow.
The minister is optimistic about the potential rebalancing of the oil market and added that prices would be determined by the market.
"Prices are ultimately for the markets to determine based on marginal cost of production and expectations of supply and demand. But as I think of fundamentals I am more optimistic than I have been in the last two or three years, demand is healthy around the world in developed and developing countries," said the minister.
Al-Falih added that the deal reached by OPEC and non-OPEC countries in November 2016 in Vienna notably helped to stabilize oil prices. The agreement remains in force until the end of March 2018.
Saudi Arabia's Public Investment Fund (PIF) in cooperation with the Russian Direct Investment Fund (RDIF) is considering joint work on 25 investment projects in various areas, according to Russian Energy Minister Aleksandr Novak.
"At the moment, RDIF and Saudi Arabia's Investment Fund have implemented projects worth over $1 billion. Currently, 25 more projects in various areas of the economy are under consideration," Novak said.
The funds will reportedly invest in the construction of a petrochemical complex and a small hydropower plant. Joint investment projects will also cover logistics companies, Pulkovo airport in St. Petersburg and others.
One of the major projects is the creation of joint scientific centers to develop and implement new technologies, according to the minister.
"In particular, we have welcomed the idea offered by the Saudis to create common research and development through cooperation between Saudi Aramco and Gazpromneft," said Novak.
You can share this story on social media: