Russia to issue 10mn national payment cards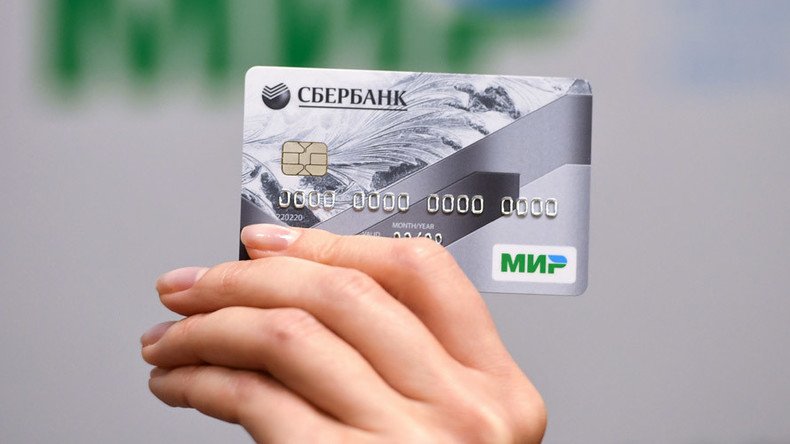 Russia's top lender Sberbank says it will issue ten million Mir charge cards as part of the country's NSPK national payment system.
According to the bank, "public sector workers, pensioners, and other clients, who chose Mir for their personal needs," are among the cardholders.
Last year, as part of its integration into the Mir system, Sberbank began servicing Mir cards at cash machines, retail and service points. The bank said there are approximately 1.2 million POS terminals that accept Mir cards at 800 retail and service locations, as well as 24,000 online stores throughout Russia.
Mir cards can be used to access all the services offered by the bank's 77,000 self-service devices and at over 14,000 branches.
"Cardholders can also access Sberbank Online – both web and mobile app versions – and the Mobile Bank, Sberbank's popular service for sending money via SMS," said the bank.
The Mir payment system was introduced in 2015 after clients of several Russian banks (SMP Bank, InvestCapitalBank, Russia Bank and Sobinbank) were unable to use Visa and MasterCard due to US sanctions. Customers found the bank issued credit cards linked to the Visa and MasterCard systems no longer worked.
NSPK is ready to conquer the 230 million-card Russian market, and according to Central Bank Governor Elvira Nabiullina, 90 percent of ATMs in Russia are ready to accept the new payment system.
The head of NSPK Vladimir Komlev said the cards could soon be used across Europe and the international acceptance of Mir shows the system's maturity. Agreements have been signed with MasterCard, JCB, AMEX and the Union Pay payment systems, he said, adding Mir cards will soon be accepted by online payment platform Alipay, and there are plans to connect to eBay.
NSPK has also agreed to issue co-badged cards with JCB of Japan.
You can share this story on social media: