China takes hard line on soft cheese imports
China's food hygiene authorities have reportedly halted imports of a whole range of French cheeses, including brie, camembert, and roquefort.
Read more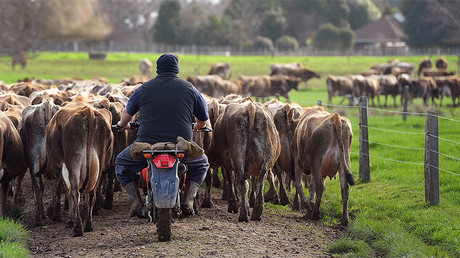 Products containing bacteria found in the rind of brie and camembert and bacteria used to produce blue cheese are reportedly affected by the ban.
"We haven't been able to get our orders through customs for three weeks. Our suppliers say food hygiene authorities have tightened their rules," said Vincent Marion, a co-founder of Shanghai-based cheese seller Cheese Republic, as quoted by AFP.
The retailer can currently sell only hard cheese like cheddar, comte, and manchego, according to Marion.
"This effectively means that China is banning famous and traditional European cheeses that have been safely imported and consumed in China for decades. There is no good reason for the ban because China considers the same cheese safe if produced in China," said William Fingleton, a spokesman for the Delegation of the European Union to China, as quoted by CNNMoney.
Fingleton stressed that European producers were extremely concerned by the measure, which might potentially affect other types of cheese.
A spokeswoman for Shanghai Fuzhen Commerce, a foreign food importer, said the notice of the ban was received from the regulator in June. However, the suppliers began sounding the alarm about two weeks ago, according to Marion.
Chinese media reported the country's food hygiene regulator had also banned canned soups and baking powder.
"The Chinese government believes there is a harmful substance in baking powder and has therefore banned importation. Even though everybody else in the world eats, uses, and needs it for baking. For soup, it may have something to do with meat stock," said an unnamed source as cited by City Weekend website.