Gold surges to 1-yr high, dollar dips as N.Korea fears grow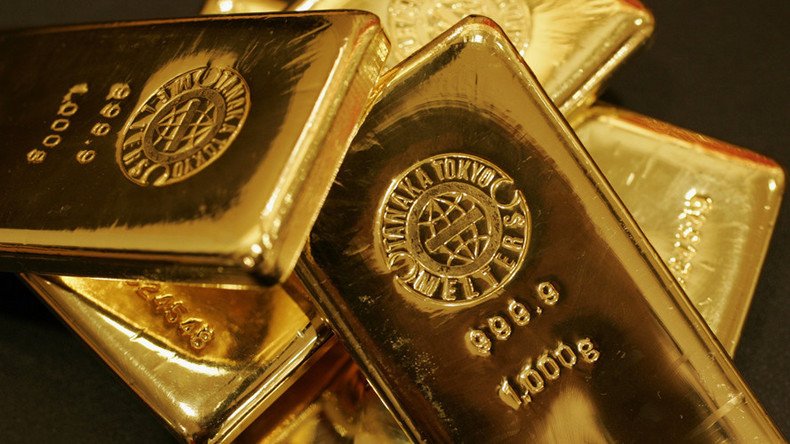 The price of gold bullion has hit its highest level in over a year on Friday, and the dollar has been under pressure from weak US jobs data and concerns over the impact of the recent hurricanes on the world's biggest economy.
At the same time, intensifying tension surrounding North Korea has increased safe-haven demand.
Spot gold has surged to $1,352.91 per troy ounce as of 07:23 GMT on Friday. Earlier in the trading session gold prices hit their highest level since August last year. The precious metal is up over two percent for the week, on track for a third weekly gain.
US gold futures for December delivery were up 0.7 percent to settle at $1,359.50 an ounce. The SPDR Gold Shares exchange-traded fund rose 0.9 percent.
"Lingering North Korean tensions and a general US dollar sell-off propelled gold to new 2017-highs overnight. Gold continues breathing thin air at these rarified levels with the next technical target at $1,375.00," said Jeffrey Halley, a senior market analyst at OANDA, as quoted by Reuters.
On Friday, the greenback index was off 0.5 percent at 91.177 against a basket of six major currencies after plunging to its lowest level since January 2015.
"Looking at the hurricanes, the damage is expected to be huge, and because of that safe-haven flows into gold, the Japanese yen and Treasuries have been seen of late," said OCBC analyst Barnabas Gan, as quoted by the agency.
"The very strong yellow metal price is due to safe-haven flows. Some of the gold-strength is very much due to the ongoing North Korean tensions as well. The risk for intensified conflicts is there," the expert added.
You can share this story on social media: