Gold price spikes over North Korea tensions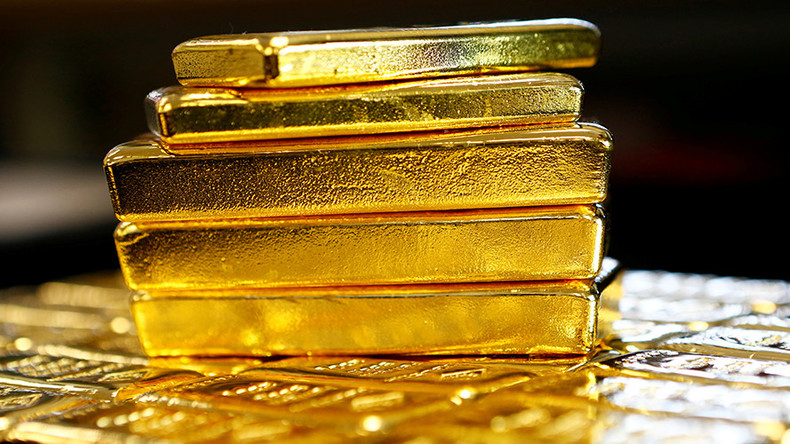 North Korea's latest missile launch has pushed investors toward haven assets. The price of gold has rallied to its highest level this year.
Gold was trading at $1,311.34 per troy ounce on Wednesday, managing to breach the psychological $1,300 level for the first time since September 2016.
"The markets really fear uncertainty of any kind, and this adds uncertainties," George Gero, managing director at RBC Capital Markets told the Wall Street Journal.
Tensions between the US and North Korea have supported gold in recent weeks. The price rose almost one percent on Tuesday morning after the missile launch and uncertainty on how Washington may respond. President Trump said "all options are on the table" to deal with the threat.
An earlier threat by Pyongyang to fire a missile over Japan toward the US territory of Guam prompted President Trump to warn he would retaliate with "fire and fury." Trump said force was an option to prevent Kim Jong-Un from gaining an intercontinental missile that could deliver a nuclear weapon to the US.
A weaker dollar also supported gold prices, as it becomes cheaper to foreign buyers when the US currency falls.
Meanwhile, analysts and investors are waiting to see if gold could stay above $1,300 if the tension between the US and North Korea subsides.
"I think we're going to stay above $1,300, but we're going to have more volatility as headline traders keep an eye on central banks," said Gero.
"Assuming things don't escalate from here, and we hope that they don't, we wouldn't be surprised to see gold give a few dollars up in the coming hours or days," Jordan Eliseo, Sydney-based chief economist at Australian Bullion told Fortune.
Investors will watch to gauge whether bullion can remain above the $1,300 level and that "number, instead of being something of a ceiling, can become something of a floor," he added.