Hurricane damage shuts down major US oil refineries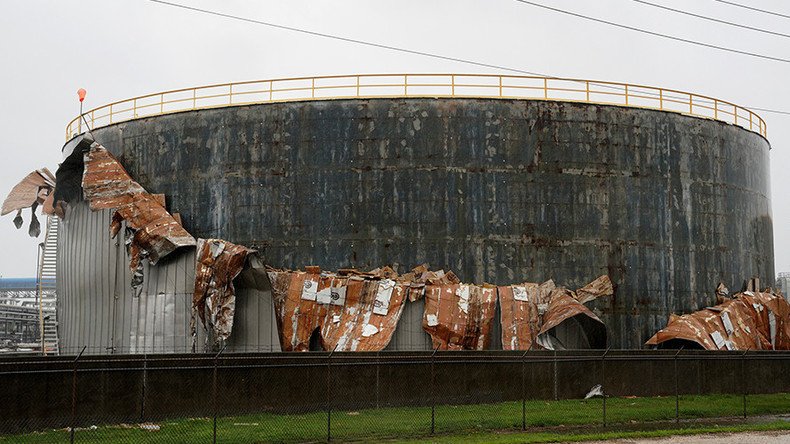 Ten crude refineries around Houston and Corpus Christi in Texas are closed in the wake of torrential rains, and devastating flooding brought about by Hurricane Harvey during the weekend.
The shut refineries normally have a daily capacity of nearly two million barrels of crude, according to a report by S&P Global Platts.
There are dozens of refineries along the US Gulf Coast as well as other plants turning oil into gas, diesel, and other petrochemicals. Nearly one-third of the nation's energy capacity is centralized in the region.
Royal Dutch Shell closed its Deer Park refinery in southeastern Houston. It is one of the biggest in the US with a capacity of 340,000 barrels per day (bpd).
Exxon Mobil's Baytown refinery, the second largest in the country, processing 560,000 bpd, was shut as well.
The Phillips 66 Sweeny Texas Refinery with a capacity of 260,000 bpd has closed, while output at Marathon's Galveston Bay refinery and the Access Industries plant in Houston were slowed due to the closed ship channel, according to traders and oil industry news services, as cited by CNBC.
The Magellan pipeline company reportedly closed the crude oil and refined product pipeline in Houston with remaining refineries expected to be closed as well.
According to an Oil Express news alert, refining plants owned by Flint Hills, Valero, and Citgo were due for controlled shutdowns. The refineries' estimated capacities are over 700,000 barrels per day.
Extensive damage across the region also makes it difficult for employees to get to work.
READ MORE: Oil prices surge as Texas braces for storm of the decade
Nearly 22 percent of oil production in the Gulf of Mexico has been "shut-in," according to the Bureau of Safety and Environmental Enforcement. That's about 378,000 barrels per day, out of a total of 1.75 million in the region.
Despite the drop in production, oil prices are shrugging off the effects of the storm. Brent crude is trading lower on Monday at $52.39 per barrel, while US benchmark WTI is down over one percent at $47.32.
You can share this story on social media: