Vietnam puts dozens of bankers on trial for graft & mismanagement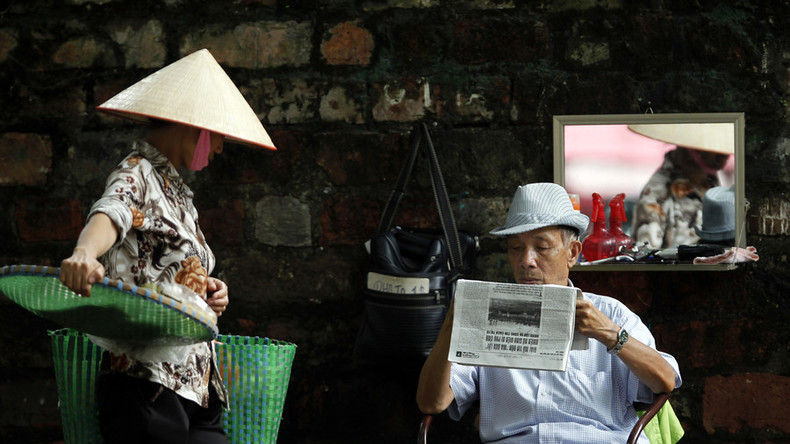 About 50 bankers are on trial in Vietnam for alleged graft and mismanagement as authorities intensified efforts to crack down on corruption in the country. The bankers are accused of causing losses of $69 million at the Ocean Bank.
The former chairman Ha Van Tham of Ocean Bank and general manager Nguyen Xuan Son are among those accused of embezzling $2.2 million and appropriating another $8.8 million, according to the Associated Press.
At the time, the bank was 20 percent owned by state energy company PetroVietnam, where Son had previously served as chairman. The losses led to the bank being taken over by the State Bank of Vietnam.
Another 44 senior executives are accused of abuse of power or economic mismanagement. Five executives from different companies are also named in the case.
In recent years, Vietnam's banking sector has been rocked by a series of scandals, with high-profile arrests of wealthy businessmen and executives.
In January, Vietnamese police arrested seven ex-bankers accused of approving illegal loans that led to $21 million in losses. Last September, 36 former bank employees were convicted of running a graft ring and received between three months probation and 30 years in prison.
In 2013, the state media reported the former Vietnamese banker and his business associate had been sentenced to death for their part in the embezzlement of $25 million. They were among 11 defendants in the nine-day trial. The other nine defendants were imprisoned for up to 14 years for breaching state economic regulations.
The Vietnamese economy expanded 6.21 percent last year and is among the fastest growing in the world. According to a World Bank forecast, the country's GDP should increase by an average 6.3 percent in the next three years.
However, high public debt, bloated state-owned enterprises, and rampant official corruption add to concerns the country's economic progress could be vulnerable.
Vietnam's communist government has vowed to clamp down on corruption. Hanoi resumed executions by lethal injection in 2013, drawing criticism from the UN's human rights office.